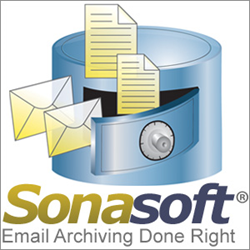 Sonasoft's revenue already is up 110 percent from our total revenue from Q3
San Jose, California (PRWEB) November 20, 2014
Sonasoft Corp. (OTCPK: SSFT), a leader in Email Archiving Solutions and Business Continuity Services, announced that it has reached revenue of $326,000 to date so far in the Fourth Quarter (Q4) of 2014 as compared to its Third Quarter (Q3) revenue for a total of $155,000. This Q4 revenue is 110 percent higher than its Third Quarter revenue. This growth is attributed to an increased demand for Sonasoft's products and a significant increase in demand for its professional services.
"With less than seven weeks into Q4", Sonasoft's revenue already is up 110 percent from our total revenue from Q3," said Andy Khanna, Founder, President, and Chief Executive Officer of Sonasoft Corp. "Q4 will be our best quarter in the past three years. The Company's growth is very strong in all areas of business, especially in our professional services. Since Sonasoft's employees are solid in Microsoft technologies, it is not surprising that our Microsoft Exchange Migration Services continue to be a substantial engine of growth. Sonasoft offers excellent migration services at very reasonable costs. Sonasoft's Email Archiving Solutions and NearPoint Data Export and Migration Services also have added well to our bottom line. With this revenue increase, Sonasoft has doubled its sales force and added technical support professionals to fuel this positive growth into our Fiscal Year 2015."
To be informed of Sonasoft Corp's (SSFT) finances on OTC Markets:
http://www.otcmarkets.com/stock/SSFT/quote
To learn more about Sonasoft's Business Continuity products and professional services, as well as to obtain a no-cost consultation for email archiving and migration services:
About Sonasoft:
Sonasoft Corporation is a publicly traded company with SEC Reg. A clearance and is listed on the over-the-counter markets at OTC Markets with the trading symbol SSFT. Sonasoft's core business model includes enterprise-class email archiving, eDiscovery, and business continuity software solutions for Microsoft Business Applications on Microsoft Windows platforms. Sonasoft's signature products for eDiscovery tools, which include SonaVault Email Archiving Software and SonaVault Email Archiving Appliances, deliver affordable enterprise-level functionality that exceeds compliance and ease-of-use requirements of small and medium-sized businesses, governments, school districts, organizations, and enterprises. Sonasoft recently expanded its product offering to include Cloud-based email archiving as well as data export and migration services for competing archiving solutions. Sonasoft email archiving and eDiscovery solutions have hundreds of deployments with an exceptional degree of high customer satisfaction. Founded in 2003, the company is headquartered in San Jose, California.
For more information about Sonasoft's email archiving solutions and business continuity software, contact:
Andy Khanna
CEO and President of Sonasoft Corporation
Email: AndyK(at)sonasoft(dot)com
Direct: (408) 708-4000
Source: http://www.sonasoft.com
Forward-looking Statements:
This release contains statements that constitute forward-looking statements. These statements appear in a number of places in this release and include all statements that are not statements of historical fact regarding the intent, belief or current expectations of the Company, its directors or its officers with respect to, among other things: (i) the Company's financing plans; (ii) trends affecting the Company's financial condition or results of operations; (iii) the Company's growth strategy and operating strategy; and (iv) the declaration and payment of dividends. The words "may," "would," "will," "expect," "estimate," "anticipate," "believe," "intend," and similar expressions and variations thereof are intended to identify forward-looking statements. Investors are cautioned that any such forward-looking statements are not guarantees of future performance and involve risks and uncertainties, many of which are beyond the Company's ability to control, and that actual results may differ materially from those projected in the forward-looking statements as a result of various factors.