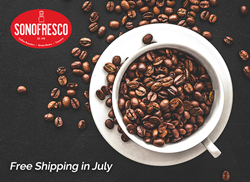 BURLINGTON, Was. (PRWEB) July 09, 2019
Sonofresco has announced that the company is offering free shipping on all varieties of its premium green coffee beans. The promotion is a part of the company's 4th of July Special to celebrate Independence Day. The promotion will continue throughout the entire month of July and ends on July 31st at 11:59 p.m.
Sonofresco is a premier supplier of quality tools for independent coffee businesses. They offer coffee roasting equipment that is designed to fit in with any level of roasting experience. All Sonofresco coffee roasting equipment is also designed and assembled in the U.S.
In addition to coffee roasting equipment and accessories, Sonofesco provides Specialty Grade green coffee beans from the top growing regions of the world. These high quality Specialty Grade green coffee beans are available in organic, single origin, multi certs, fair trade, and Sonofresco Signature Blend options. Customers can purchase single origins, custom blends, fair trades and other bean variety in 20 lb or 50 lb boxes.
The 4th of July Special promotion is available now and customers can receive shipping on any variety of green coffee beans that they purchase. However, the promotion is not valid on subscriptions. All Sonofresco coffee bean orders are shipped in double wall, poly lined boxes which helps to ensure that they remain undamaged during shipping and also helps to extend the product's shelf life.
Coffee orders are available for same day shipping as long as the order has been received by 1:00 PT on a business day. Any order that is placed after 1:00 PT or on a weekend or holiday will be shipped the following business day.
The offer is currently live as of July 4, 2019 and customers can place orders for green coffee bean products via the Sonofresco website. For qualifying orders, the free shipping discount is automatically applied at checkout. To find out more about the Sonofresco July 4th Special promotion, as well as the product options that are available for shipping, the company has requested that customers visit the online store for more details.
About Sonofresco: Based in Burlington, Washington, Sonofresco is a premier supplier of coffee roasters and roasting accessories. They also offer several varieties of coffee beans, with variety pack options that can be customized and shipped to order. The company was founded by Jerry and Carol Whitfield, a husband and wife team. All Sonofresco coffee roasters are proudly designed and built in the United States. The company's specialty grade green coffee beans come from top growing regions around the world including Indonesia, Africa, and Central America. For more information about the products available from Sonofresco, visit sonofresco.com.