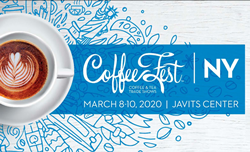 BURLINGTON, Wash. (PRWEB) February 26, 2020
Sonofresco has announced that the company will attend Coffee Fest NY 2020. This year, Coffee Fest NY 2020 will be held at the Javits Center in Manhattan, N.Y. The company is also offering a special discount for attendees of the trade show with tiered pricing based on the date of purchase with the early registration coupon.
Coffee Fest is an annual event for the coffee, tea, specialty beverage industry that takes place in several cities across the country. Since 1992, Coffee Fest trade shows have provided educational events and hosted competitions among industry insiders and business owners. The event is aimed at individuals involved with retailing coffee, tea, and related products.
Coffee Fest has been named as one of the top trade shows for the industry, both nationally and internationally. To date, more than 350,000 people have attended their trade shows in various industries. The annual locations each year for Coffee Fest include Los Angeles, Calif., Denver, Colo., and New York City, N.Y. each year.
Sonofresco will not only be in attendance at this year's Coffee Fest NY, but the company will also exhibit with a booth. Trade show attendees can visit Sonofresco at Booth #2316 from March 8-10, 2020. Sonofresco employees will be on hand to meet with attendees and accept inventory orders.
To encourage attendance of this special event, Sonofresco is offering a discount to all attendees who register early for Coffee Fest NY from now until March 7th. With the coupon, the General Admission price is discounted to $30. After this date, from March 8-10, the cost of General Admission with the coupon code rises to $38. This offer is not valid on competition fees.
At registration, all attendees should use coupon code "89712" in order to obtain the discounted pricing. To register, attendees should go to https://www.coffeefest.com/ny to complete the checkout. The registration may also be completed on-site.
All admission fees to Coffee Fest NY are non-refundable. This event is intended for trade-industry professionals only. It is not open to the public.
To learn more about the upcoming trade show and the events in which the representatives of Sonofresco will participate, trade show attendees should contact Sonofresco directly via email at office@sonofresco.com or phone at (360) 757-2800.
About Sonofresco: Sonofresco, a division of Coffee Holding Co, Inc., is a leading supplier of premium green coffee beans for retail and home coffee businesses. Sonofresco offers imported coffee beans including single origin, fair trade, and custom blend coffee beans from popular regions around the world, namely Central America, Indonesia, and Africa. The company also designs and builds commercial table top coffee roasters which are manufactured in the United States. To learn more about Sonofresco's green coffee bean products or the company's roasting machines visit sonofresco.com.