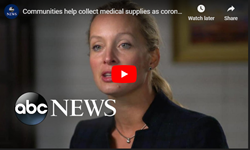 We must work together to win this war. And, together, we will. -- Rebecca Love, MSN, RN
MARBLEHEAD, Mass. (PRWEB) March 24, 2020
In continued rapid response to the national emergency to combat COVID-19, the Society of Nurse Scientists Innovators Entrepreneurs & Leaders (SONSIEL) has marshalled both national collaboration and media to help better protect frontline healthcare workers. In mere days, tens of thousands of pieces of protective gear have been donated and swiftly distributed to healthcare facilities in at least eight states. With a frantic need for immeasurably more, SONSIEL now has added a direct-sourcing, non-profit campaign to the already burgeoning grassroots program effort.
The countrywide call-to-action began with a March 17, 2020 urgent plea, requesting that non-hospital inventories of personal protective equipment (PPE) be shifted to hospital and healthcare facilities. Using a program deemed SHARE—Strengthen Healthcare Ability to Respond to Emergencies—SONSIEL and its members quickly raised action to amass existing inventories of PPE and transport items to the front lines of care. In less than one week's time, 12,000 N95 masks, 8,000 surgical masks, 1,000 face shields, 1,200 isolation gowns, 60 pairs of goggles, 50 hazmat suits, 6,000 pairs of gloves, 35,000 shoes, gallons of hand sanitizer, and 40 bottles of cleaning supplies have been identified, sourced, and moved to facilities in California, Idaho, Massachusetts, Maine, New Hampshire, New York, Pennsylvania, and beyond. Items have arrived from all over the country and from every walk of life. Contributors include non-profits, corporations, individuals, municipal organizations, pharmaceutical labs, veterinarians, dentists, construction, cleaning, retail, and landscaping companies—all in an effort to ensure that staff caring for COVID-19 patients are protected and safe. Volunteer groups are sewing masks in Florida. Engineers are fashioning new infection-prevention designs in Illinois. It's a classic American wartime effort.
A March 20, 2020 ABC News Nightline episode, "Communities help collect medical supplies as coronavirus threatens shortages," featured SHARE. Since the show aired, SONSIEL has received an even greater number of incoming appeals from desperate nurses and physicians working at healthcare locations in virtually every state in the nation. As a result, on March 22, 2020, SONSIEL launched a GoFundMe campaign to also help temporarily source supplies restricted by hospital purchasing constraints. Nearly $20,000 in donations have poured in during the initial hours of the campaign.
Remarked Rebecca C. Love, MSN, RN, SONSIEL President & Co-Founder, "Nurses and towns are mobilizing, setting up collection sites; frontline staff are stopping by and picking up supplies. We need this strategy and tactic replicated in every town across America. So many of our peers, the healthcare troops, from the ranks of doctors and nurses and every role on a team, are seriously affected by and at risk due to this dire shortage of protective gear. We cannot lose our healthcare workers to sickness as a result of exposure to this invisible enemy. With all of your help, with the efforts of active and retired nurses, military veterans, tech workers in Silicon Valley, tradespeople in our neighborhoods, shop owners, co-workers, our family and friends, with all of your help, SONSIEL is locating and delivering PPE where it is needed, as fast as we are able, at no cost, until the country's manufacturing and supply chains can adjust to the new PPE productions levels demanded in today's war against the virus."
Said Marion Leary, MPH, MSN, RN, SONSIEL Board Member, "So many of you have given, personally and corporately. There are just far too many of you to name. And yet we've so much more to do. We must not only sustain but significantly grow our force. Large urban hospitals, small medical practices—from New York City to New Hampshire, from Los Angeles to Maine, in Idaho, Boston, Philadelphia, and everywhere—healthcare staff need our help, so they can help us in this once-in-a-lifetime battle. Please add more power to SONSIEL's fight. We ask everyone across the country to get out the word, to continue to research where appropriate supplies might be found, and to fully support the SHARE and GoFundMe efforts. If you have any PPE or money to spare, please free them up, understand how one act will help your local hospitals and healthcare providers, the people in your community."
Concluded Love, "We must work together to win this war. And, together, we will."
To contribute to the SONSIEL GoFundMe campaign, please visit https://www.gofundme.com/f/nurses-ppe-supplies. For more information on SHARE, please visit https://sonsiel.org/coronavirus. To view the Nightline episode, please visit https://abcnews.go.com/Nightline/video/communities-collect-medical-supplies-coronavirus-threatens-shortages-part-69724499.
ABOUT SONSIEL
SONSIEL is a national and international platform for nurses, to engage and advocate for nursing's role in influencing and directly impacting health through innovation and entrepreneurship. Nurses are on the front lines, working with all healthcare team members to keep patients and the community safe. For more information about SONSIEL, please visit https://sonsiel.org/.