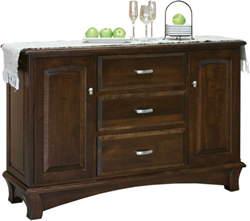 The Grand Island Buffet will seamlessly integrate with existing furniture in upscale dining rooms.
SHIPSHEWANA, Ind. (PRWEB) January 22, 2020
Occasionally a new line of furniture emerges that goes over the top in sophistication, features and appeal, and the recently-released Grand Island Buffet from Brandenberry Amish Furniture is such an item.
The buffet catches the eye with its raised panel doors and sides, graceful arches and dark stain – complemented by silver hardware. According to Floyd Eash, a furniture consultant at Brandenberry Furniture, "the Grand Island Buffet will seamlessly integrate with existing furniture in upscale dining rooms".
All three drawers open fully extended. So homeowners and other users can enjoy easy access to every corner of each drawer. This convenience is not available with drawers that open only partway. Also, dovetail drawer joints enhance strength and durability. What's more, the builders placed an adjustable shelf behind each door, for added flexibility in arranging stored items.
As with other pieces from Brandenberry Amish Furniture, the Grand Island Buffet is conscientiously handcrafted by Amish men. Amish craftsmen use quality regional hardwoods, such as oak, maple, cherry and hickory. In addition, the Amish builders integrate tried-and-proven woodworking skills handed down from their ancestors making the Grand Island Buffet a potential family heirloom.
Brandenberry offers the Grand Island Buffet finished or unfinished. Also, homeowners can customize the buffet to their specifications. Custom preferences include the wood specie, finish, hardware and finished size.
The Grand Island Buffet can be ordered or customers can visit Brandenberry's furniture in Shipshewana, Indiana. The store is located at 1045 N. State Road 5 in Shipshewana, at the intersection of State Road 5 and US 20, near the Indiana Toll Road. The store is open Monday through Saturday from 9 a.m. to 5 p.m. and by appointment.
About Brandenberry Amish Furniture:
Brandenberry Furniture opened its doors in 2008. The Brandenberry Furniture concept allows customers to design the furniture of their dreams…to explore the rich woods and stains that only nature can offer. Nothing matches the feel, the smell and the weight of hickory, oak, cherry, maple…real woods that come to life in an Amish handcrafted piece. They are meant to last a lifetime and beyond.
Whether a customer's favorite style is Mission, Traditional, Modern or something in between, if Brandenberry Furniture doesn't carry it, their craftsmen will build it to specification.
Brandenberry Furniture offers everything from bedroom and dining collections to home accessories, patio and exclusive furniture pieces. Browse our easy-to-use website with detailed photographs and information, and you'll find furniture categorized by room (including family room, dining room, bedroom, office, children's) as well as by wood species (including oak, hickory, cherry, elm, maple, pine and cedar) and style.