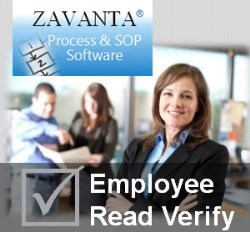 This is going to raise the bar for us in training new and existing staff, says Early Release Customer.
St. Louis, Missouri (PRWEB) December 10, 2013
COMPROSE Inc today announced Zavanta SOP software v. 6.0 with Read/Verify features is available in Full Release. Having clear processes and standard operating procedures (SOPs) in place is essential for high-performance and keeping regulators happy, but how can organizations ensure employees have read and understood them?
"Read/verify is an important but often time-consuming and tedious part of the SOP compliance process. Many customers asked for our help with this challenge and our newest Zavanta release solves this problem," reports COMPROSE Marketing. "Companies need read verification records to protect against lawsuits as well as to comply with many regulatory mandates, but obtaining and tracking verifications without an automated solution is a labor intensive and error prone administrative task—requiring manual sign-offs and tedious record keeping.
Now with the Zavanta's Read/Verify module, employees can simply click a link after reading the policy or SOP and complete the verification signoff electronically. Records go directly into a database for fast and easy reporting and tracking.
As with earlier Zavanta versions, with version 6.0 companies can create, publish and maintain clear, accurate and easy to understand policies and procedures and make them accessible to the workforce electronically 24-7. Using Automated Actions, they can automatically email employees to notify them of updates and request verification. The Read/Verify function completes the final step. The feedback from Beta and early release customers has already been very positive. According to one early release user, 'This is going to raise the bar for us in training new and existing staff.' "
Since 1987 COMPROSE, Inc. has worked with hundreds of organizations to streamline and standardize their operations. COMPROSE is a single-point resource for any organization that wants to bring more structure to the people side of their business. Hundreds of organizations already use COMPROSE's Zavanta software to standardize operating procedures and best practices. The COMPROSE website highlights client success stories including improved performance, faster ramp-up, reduced training costs, and streamlined regulatory compliance.
COMPROSE Zavanta® software breaks through the limitations of conventional approaches with a faster, better way to capture, maintain, and deliver clear standard operating procedures, policies, training manuals and work instructions that employees actually use and understand--accessible 24/7 from their browsers.
COMPROSE also provides informational whitepapers and authors a series of blogs on operations improvement and training including corporate training best practices, and Policy and Procedure Best Practices focused on getting the highest return on investment.