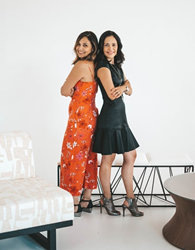 Every piece of furniture will be designed with the hope that other women will benefit from the entire process.
DENVER (PRWEB) March 04, 2021
Announcing the launch of SORELLA Furniture line, which is Margarita and Maria Bravo's vision to celebrate female leadership, sustainability in interior design, and custom-made creativity. Margarita and Maria have collaborated to create this collection, and each bespoke piece is handcrafted and exclusively available through MARGARITA BRAVO. The collection is made with sustainable materials and expert craftsmanship from Portugal, for Margarita's discerning clientele in Denver and the rest of the US.
Margarita and Maria have an impressive professional history – Margarita has a degree in Industrial Engineering and Interior Design studies in New York and Barcelona, and Maria is a Mechanical Engineer with a background in Project Management. They created SORELLA as a means to step out of their comfort zone and develop innovative ways to bring a whole new level of sophistication and quality to the process of procuring furniture.
The sisters enrolled at the Escola Superior de Disseny (IED) in Barcelona to gain a more thorough understanding of the furniture design process, and SORELLA reflects this learning mixed with their innovative ideas. The pieces are designed in Denver by Margarita and Maria and then handcrafted by skilled artisans in Portugal. Each piece displays exquisite detail and craftsmanship that is not found in mass-produced, factory furniture lines.
Given the attention to detail and love with which each piece is made, the furniture has an artistic, one-of-a-kind quality that adds aesthetic and functional value to a home. SORELLA has been designed by women, and Margarita and Maria want to ensure that their work empowers other women, too. Five percent of the net proceeds from each piece sold is donated to a charity that works to uplift and empower women.
Join these sisters in their excitement of launching this new product line by following SORELLA on Instagram here: https://www.instagram.com/sorella_furniture/
Shop the SORELLA Furniture line here, https://www.margaritabravo.com/shop/sorella-furniture
To set up a consultation with Margarita Bravo, call her at 720-735-7533 or reach her at https://www.margaritabravo.com/contact/