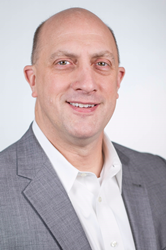 We are excited that Scott is joining the team and can help our clients reach their goals.
MILTON, Ga. (PRWEB) December 03, 2019
Soriant is glad to announce the addition of a Chief Operating Officer to their executive team. Scott Kern brings over 20 years of experience in the healthcare support service industry. His previous leadership roles, paired with his problem-solving skills, are perfect for fulfilling his new position with Soriant. Scott will be working closely with clients to meet their supply chain needs including increasing patient/client satisfaction, cost reduction, right-sizing contracts, enhancing in house programs and/or selecting the right vendor(s). His client focus maps well with Soriant's long term goals.
"The last several years have been an exciting, but busy, time and it has become clear that in order to reach our long-term goals and meet the needs of our clients, we need to ensure operational efforts are as efficient and effective as they can be. We are excited that Scott is joining the team and can help our clients reach their goals." states Erik Scott, CEO of Soriant Solutions.
About Scott Kern
Scott's years of experience in leadership roles and increasing company revenue includes his time as a group Vice President at Elior Healthcare, where Scott was able to grow his segment by 130% in a span of just three years. Before that, he operated as Regional Director of Operations for Morrison Community Living where Scott was able to expand his portfolio by 100%. His expertise in foodservice, contract negotiations, strategic planning, and revenue generation are a perfect match for Soriant. His new role as Chief Operating Officer is positioned for the company's future success rate.
About Soriant
Originally AFR Solutions then rebranded as Soriant Healthcare, Soriant specializes in providing consulting services for hospitals, healthcare systems, medical facilities, colleges, universities, and educational programs focused on finding ways to enhance the patient/student experience while focused on cost containment without jeopardizing quality. The representatives at Soriant are well-versed in understanding client goals and budgets, and successfully cutting out unnecessary expenses while increasing revenue.
Over 300 hospitals have saved a combined total of well over half a billion dollars thanks to the consulting expertise of Soriant Solutions. The company's team prioritizes client satisfaction and savings, and will explore every possible route to find the best course of action when it comes to meeting expectations and saving on costs.
To learn more about Soriant Solutions, please visit https://soriantsolutions.com/