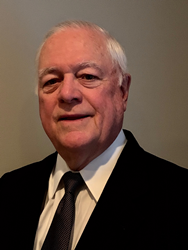 "We have no doubt that Jay Marvin will be a great addition to our team, and we are happy to have him!" - Soriant CEO, Erik Scott
MILTON, Ga. (PRWEB) July 23, 2019
As a new member of the Executive Team, Jay Marvin will oversee various roles related to customer acquisition and Client onboarding, working with the Soriant Executive Team and experienced consultants to ensure the company is meeting its core responsibilities.
"Our overall goal is to provide well-designed, market-responsive strategies that drive down costs and direct an organization's resources toward patient care and student satisfaction. We take a further step to offer tools and best practices, so our results are sustained over time," states Soriant CEO, Erik Scott. "We have no doubt that Jay Marvin will be a great addition to our team, and we are happy to have him!"
Jay Marvin brings 35 years of experience in the Business, Academia, and Healthcare Markets to the Soriant team. Working with both national and international companies throughout his career, Marvin has cultivated a set of skills in operations, strategy development, business development, marketing, and the ability to build strong and culturally diverse teams.
Prior to joining Soriant, Marvin worked for Sodexo in a global role. He attended Cornell University where he received a BS in Hotel Administration and later attended Harvard Business School for his Executive Education. Both Marvin's education and work experience have prepared him for the leadership position he now holds at Soriant.
"It is the spirit of the leadership and of the people delivering the services that makes an organization rise to challenges of delivering more," explains Marvin. "Sustainability and excellence in an organization comes from the dedication of people driven to lead change for the benefit of more than just themselves."
About Soriant:
Helping drive over half a billion dollars in savings for over 500+ hospitals, Soriant is a market leader in providing support service solutions for the healthcare industry. They help organizations target sustainable savings opportunities while improving patient care for the long term by partnering with hospitals and health systems to accelerate performance, improve quality, enhance patient satisfaction and decrease costs.
Earlier in 2019, the company expanded their consulting focus in higher education and interim management. Soriant's portfolio of consulting services includes Contract Services, Facilities Management, Food and Nutrition, Dining Services, Environmental Services, Patient Transport, Security, Laundry and Linen Services, Clinical Engineering and BioMed Services, Print and Document Management and more. To learn more about the national consulting company, visit https://soriantsolutions.com/ or call 770-777-6633.