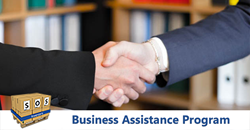 ...we are committed to doing everything we can to help our fellow small businesses in this time of crisis.
ARLINGTON, Texas (PRWEB) March 19, 2020
SOS Inventory, a leading software product for inventory, order management and manufacturing since 2009, launched a business assistance program to help businesses impacted by the coronavirus outbreak.
SOS Inventory has introduced a series of measures to help existing SOS customers manage their businesses better in these uncertain times, including allowing them to add as many remote working users as they wish at no additional cost.
In addition, at a time when many businesses must look to cut costs or update technology to permit remote access for staff compelled to work from home, SOS Inventory is offering a free customer training class and a dedicated account manager to new customers at no charge through April 30th, to help them get set up quickly, a $1,500 value.
SOS Inventory is an affordable alternative to enterprise inventory software, which can cost thousands of dollars to set up and much more in ongoing fees. Monthly plans for SOS begin at $39.95 with a 14-day free trial at the onset.
Over 90% of SOS Inventory's employees work remotely on a regular basis. The company is equipped to continue the same high levels of support and service as normal.
Neal Shaw, CEO, SOS Inventory stated, "Small businesses are the backbone of our economy. Many of them are hurting right now, as countries around the world enact necessary measures to stop the spread of coronavirus. At SOS, we are committed to doing everything we can to help our fellow small businesses in this time of crisis. From the SOS family to yours, take care of yourself, your family, your employees, and your coworkers. We're here to help if you need us."
SOS Inventory has thousands of 'SME' customers in over fifty countries spanning many industries.
Those interested in SOS Inventory's special business assistance program can learn more here.
About SOS Inventory
SOS Inventory is a global leader in cloud-based inventory, manufacturing, and order management. As one of the very first applications ever to integrate with QuickBooks Online (since 2009), SOS provides seamless integration with QuickBooks in addition to innovative tools to serve small businesses.
SOS Inventory has an impressive feature set, boasting everything needed to manage back office operations, including warehousing, fulfillment, purchasing, manufacturing, and more. Most importantly, SOS is affordable for small businesses, costing a small fraction of traditional back office software. By switching to SOS for operations, companies gain functionality while lowering costs – the best of both worlds. For more information, visit http://www.sosinventory.com.