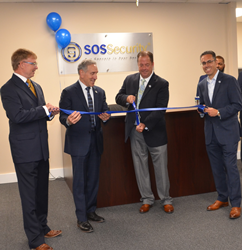 "Philadelphia is a critical market for SOS Security," said SOS Security Chairman and CEO Edward B. Silverman, CPP. "Our growth is the result of a strong local management team working closely with clients; The future is bright in Philadelphia!"
PARSIPPANY, N.J. (PRWEB) June 07, 2019
SOS Security, LLC, the nation's fourth largest provider of security personnel, hosted an official ribbon cutting ceremony on June 3, 2019 for its new Philadelphia branch office at 1 Winding Drive, Suite 202, in Philadelphia's City Avenue District.
In 2018, SOS Security acquired McGinn Security, a partnership that has bolstered corporate resources and capabilities in this critical market and spurred growth. Today, the team provides custom security programs for nearly 70 clients at sites including universities, office buildings, industrial sites, business parks, residential properties and airports.
"Philadelphia is a critical market for SOS Security," said SOS Security Chairman and CEO Edward B. Silverman, CPP. "Our growth is the result of a strong local management team working closely with clients; The future is bright in Philadelphia!"
The expanded office space serves as a hub for regional leaders and co-locates regional corporate services to better serve our clients and the nearly 500 officers working at various sites throughout Philadelphia and surrounding counties.
"The new 2,100 square foot office is an ideal location within the City Avenue District," said Regional Vice President Mark Hensel. "It is close to many client sites and very accessible for employees." Senior Vice President/Business Development Joe McGinn added, "The move into expanded space has really energized our team; I can't wait to see what lies ahead."
"The ribbon cutting event was a great opportunity to celebrate and provide employees and guests a glimpse of the new office and various services this location has to offer," said Senior Vice President and Northeast Regional Director, Joseph Martino.
1 Winding Drive is part of the City Ave District featuring over 600 businesses and is the second densest office population in the entire Philadelphia and surrounding Counties. The location offers quick access to downtown Philadelphia, the city's western suburbs and New Jersey. City Ave employers include institutions of higher learning, more than 20 media outlets, financial institutions, insurance companies, and healthcare facilities.
As a result of the continued growth, SOS Security has many job opportunities in and around the downtown area. View current openings at http://www.sossecurity.com/philadelphia/.
About SOS Security
Founded in 1969, SOS Security is one of the largest privately-owned security companies in the U.S. with more than 12,000 security professionals working domestically and around the world through foreign regional joint ventures and strategic partnerships. A proven leader in the security and protective services Industry, SOS Security is headquartered in Parsippany, NJ and has offices throughout the United States and resources servicing over 100 countries.
SOS Security's business lines include executive/close protection (through subsidiary AS Solution) for Fortune 1000 corporate executives and high-profile individuals around the world; Investigative, and Management and Consulting Services. In addition, SOS Security provides highly qualified and trained security officers for clients in various industries such as: Technology/Communications; Government; Embassies and Consulates; Public Utilities; Education Facilities/Campus Security; Hospitality/Leisure/Hotels, Retail/Shopping Centers; Media/Entertainment; Commercial/ Residential Real Estate; Pharmaceutical/Healthcare/Hospitals; Manufacturing/Warehouse/Distribution; and Financial/Banking.
Learn more about SOS Security's capabilities and careers at http://www.sossecurity.com.