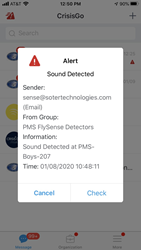 School administrators need streamlined communications tools during emergencies and for the detection and response to vaping and bullying incidents
RONKONKOMA, N.Y. (PRWEB) February 10, 2020
Soter Technologies, the company that created FlySense™ the first and most widely adopted vape and bullying detection and alert system in the world for schools, has announced a new strategic partnership with CrisisGo. CrisisGo is a Saint Louis, MO-based developer of emergency communications technology for schools, cities, and law enforcement. The first deployment of the combined technology is garnering rave reviews from schools in the state of Kentucky.
CrisisGo is the only incident management platform that coordinates alerts, messages and notifications through communication and Internet of Things (IoT) devices across and within first responders, school safety and security teams, teachers and staff and the entire education community. With CrisisGo's technology, all incidents of student vaping and bullying detected by FlySense™ are immediately reported to school administrators or personnel.
The CrisisGo app brings together all the FlySense™ platform's alerts from its environmental sensors that detect vaping and sound anomalies that may indicate bullying or fighting. Sensors are placed in bathrooms and other locations where cameras are not permitted. Combined technology allows school administrators to quickly receive, respond, manage and track these events.
"Our partnership with CrisisGo gives school administrators what they have been asking for – a robust application which offers emergency notification capabilities along with student health and safety alerts combined with complete incident management functionality. FlySense™ integrates seamlessly with the CrisisGo app and software, saving time and resources," said Derek Peterson, Founder and CEO of Soter Technologies. "I am confident that this partnership will allow both companies to bring our technologies to existing clients as well as open new markets."
"Students are facing unprecedented threats of violence and bullying along with health risks associated with vaping. School administrators need streamlined communications tools during emergencies and for the detection and response to vaping and bullying incidents. FlySense™ fully integrates with our technology, giving clients and school administrators the new and powerful tools, they need to prevent, prepare and respond to these incidents," said Chris Buecksler, VP of Marketing of CrisisGo. "Both companies are committed to enhancing the safety and security of schools and protecting students. This partnership will create opportunities for growth in our current markets and new verticals."
"I've been in the Information and Education Technology field for 20 years. I can't stress enough the importance of systems being integrated, especially with respect to authentication and/or alerts and communication. Our administrators today are bombarded with communications from every angle, 24/7. Email, web chat, video chat, texting, mobile app notifications, etc. I feel their pain everyday as sorting through all the communications is difficult and time consuming. We wanted to streamline the vaping/noise detection alerts from FlySense™ into the CrisisGo tool which our staff members are already using. This is one less app or tool the admins have to keep track of. Student safety and security alerts can remain all in one place," said Dale Weaver, CIO/Director of Technology for Paducah, Kentucky Schools.
FlySense™ 2.75 supports 5 GHz Wi-Fi and includes an advanced algorithm to identify and detect the dangerous Volatile Organic Compounds (VOCs) that are present when vape devices are used. These advanced algorithms can detect flavored vape, THC Vape and Nicotine Vape. The device also includes Dynamic Vaping Signature (DVS) technology, a new third-party application interface, Firmware Over The Air (FOTA) remote updates, an external camera relay port and a redesigned mobile application. This technology allows schools to connect sensors directly into video management systems (VMS). When vaping, fighting or bullying is detected, cameras located near bathrooms can be turn on, aiding in the identification of students involved.
With the CrisisGo platform safety staff, first responders, and personnel can use the CrisisGo app to respond quicker by setting off an alert or panic button, access critical emergency plans with or without internet connectivity, exchange specific communication from the organization's safety personnel or first responders, and submit a quick incident report or tip to the administration or management team.
To learn more about Soter Technologies and FlySense™, visit http://www.sotertechnologies.com.
To learn more about CrisisGo and its technology, visit https://www.crisisgo.com
About Soter Technologies
Ronkonkoma, New York-based Soter Technologies is committed to protecting the health and well-being of students and the public with advanced technology and creative solutions. Using advanced sensor and software technology, Soter Technologies develops and delivers innovative solutions for environmental intelligence – to make the world a safer place, from schools to enterprises to public spaces. Taking a holistic approach to safety and security, Soter provides technology tools to detect and deter without invading privacy. The company was founded as Digital Fly™ in 2015 – focused on social media awareness. The company is the first in the world to introduce a vape and bullying detection and alert system for schools - FlySense™ Vaping & Elevated Sound Detector. The company's technology has been embraced by schools across the united states and around the world. The Soter name is inspired by Greek mythology wherein Soter is the personification of safety, deliverance, and preservation from harm. For more information about the company, its services and products visit: http://www.sotertechnologies.com
About Crisis Go
CrisisGo is the premier safety and incident management platform that aligns emergency notifications and communication across and within multiple agencies. First responders, safety and security teams, organizations and staff and their communities trust the platform to rapidly respond to incidents, notify people based on roles in real time and facilitate recovery faster. CrisisGo is highly secure as demonstrated by its approved inclusion in the App Catalog for FirstNet, and reliability is demonstrated as an AWS Advanced Technology Partner. The OpenAPI enables easy integration with IoT devices and virtually all communication systems and channels, creating robust, comprehensive safety networks for virtually any organization. CrisisGo's digital safety tools have been chosen by over 16,000 schools and organizations.
For more information visit: https://www.crisisgo.com