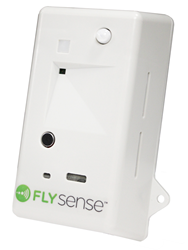 We have developed our #novaping educational campaign and tools that assist schools to educate students, parents and communities about the dangers of vaping.
RONKONKOMA, N.Y. (PRWEB) December 04, 2019
With millions of high school and middle school students vaping, this epidemic in the United States has become a top concern for parents, teachers, school administrators and government leaders in recent months. Hundreds of people have been hospitalized and there have been a number of deaths associated with vaping. Laws to ban vaping and flavored vape products are being adopted across the nation. At the same time, school administrators must address cyber security threats that come from having wireless and other devices connected to school security systems and computer networks.
To address these concerns, Soter Technologies, the company that created the first widely adopted vape and bullying detection and alert system in the world for schools, has announced the launch of its FlySense™ 2.75 device and system. This new, more powerful device includes a suite of technology and #NoVaping educational materials and tools for schools. The device's anti-bullying features, which detect sound anomalies, have been made more powerful as part of the updated design.
In response to customer requests, FlySense™ 2.75 supports 5 GHz Wi-Fi and includes an advanced algorithm to identify and detect the dangerous Volatile Organic Compounds (VOCs) that are present when vape devices are used. These advanced algorithms can detect flavored vape, THC Vape and Nicotine Vape. The device also includes Dynamic Vaping Signature (DVS) technology, a new third-party application interface, Firmware Over The Air (FOTA) remote updates, an external camera relay port and a redesigned mobile application. This technology allows schools to connect sensors directly into video management systems (VMS). When vaping, fighting or bullying is detected, cameras located near bathrooms can be turn on, aiding in the identification of students involved.
Proper placement of vape and sound sensors is critical for detection success and deterrence. All clients now receive Soter's VDL – Vape Detector Locator – a design tool which recommends the optimal placement of devices.
"We have witnessed schools, hospitals and businesses fall prey to hackers, cyber criminals and ransomware. At Soter Technologies we are committed to ensuring that our technology never creates a vulnerable access point to critical information and data. Our new FlySense™ 2.75 device has these protections built in," said Derek Peterson, CEO of Soter Technologies.
Soter Technologies has included with the release of FlySense™ 2.75 and the software that powers it, encrypted blockchain security technology. This was implemented to give school administrators peace of mind knowing that Soter's IoT (Internet of Things) environmental sensors are safe and secure from hackers who seek to access school districts or other computer systems and data.
"We know that detecting and deterring vaping is only part of what is needed to address this national youth health threat. We have developed our #NoVaping educational campaign and tools that assist schools to educate students, parents and communities about the dangers of vaping. When this is combined with our vape detection technology, incidents of student vaping have been reduced in many high school and middle school buildings," added Peterson.
Soter Technologies offers a mobile application and system to allow students to report vaping and bullying anonymously. This application also includes an Administrator Resolution Portal to provide a system for of tracking and resolving issues.
"America's youth learns best in a healthy, safe environment," added Peterson. "We are continuously working to create products and services that reduce the chances of a teenager coming in contact with students vaping or clouds of unhealthy vape."
Peterson went on to say that his company's success "stems from more than offering the most advanced vaping detection sensor and notification system available on the market today. We started #NoVaping campaigns to inspire a healthier culture in the schools. To complement the #NoVaping campaign tools, we have also released our S.A.V.E. – Schools Against Vaping Epidemic – Forums. This is a specifically created forum to allow administrators to talk to other administrators from across the country and around the world.
Peterson also sees expansion of the company and its FlySense™ product into many new markets where air quality and health are of concern. The company will be expanding into the hospitality, retail and home product market in the months to come.
"Soter products provide efficient, cost-effective solutions anywhere there is a concern about young people, employees and hotel guest health and safety. We need to create safe, vape-free areas that prevent individuals from harming themselves or others," Peterson emphasized.
To see a video with the new features of FlySense™ 2.75 visit: https://www.youtube.com/watch?v=T2vxNum-qlA. For more information about Soter Technologies and FlySense™ visit http://www.sotertechnologies.com
-END-
About Soter Technologies
Ronkonkoma, New York-based Soter Technologies is committed to protecting the health and wellbeing of students and the public with advanced technology and creative solutions. Using advanced sensor and software technology, Soter Technologies develops and delivers innovative solutions for environmental intelligence – to make the world a safer place, from schools to enterprises to public spaces. Taking a holistic approach to safety and security, Soter provides technology tools to detect and deter without invading privacy. The company was founded as Digital Fly™ in 2015 – focused on social media awareness. The company is the first in the world to introduce a vape and bullying detection and alert system for schools - FlySense™ Vaping & Elevated Sound Detector. The company's technology has been embraced by schools across the united states and around the world. The Soter name is inspired by Greek mythology wherein Soter is the personification of safety, deliverance, and preservation from harm. For more information about the company, its services and products visit: http://www.sotertechnologies.com