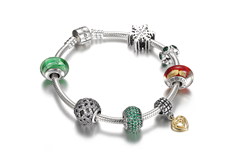 SOUFEEL - The Perfect Christmas Gift Idea!
Seattle, Washington. (PRWEB) November 18, 2014
SOUFEEL Jewelry is excited to announce that they will be hosting a series of events for their 2014 Christmas Party Super Deals. The holiday themed events will provide SOUFEEL Jewelry customers with various discounts and gifts.
"The holiday season is a time for giving. We are immensely grateful to all of our customers and wanted to give them the biggest savings and giveaways as a sign of our gratitude. This will be the biggest and longest event SOUFEEL Jewelry has ever held in its history. Our jewelry is the perfect Christmas gift to give to someone you truly care about," Steven Gao, the founder.
The two-month long event series, will provide customers with beautiful jewelry pieces and other great deals. There will be secret gifts, gift certificates, free shipping and more given to customers as part of their promotion. Shoppers will save throughout all of November and December, with special savings days saving customers even more money.
Until November 27, SOUFEEL Jewelry will be giving a secret gift to qualified customers. Free bonus points will be awarded between November 11 and November 24. These points can be used to purchase Christmas gifts for friends and family. Customers can purchase gift cards, on November 18, as Christmas gifts to let friends choose their own gifts as there will be a great savings deal going on. Between December 8 and 14, a very special & surprising gift will be given to customers who make a minimum purchase, which can be kept for yourself or given to a loved one.
Shoppers will want to keep an eye out for their Black Friday and Cyber Monday events. Rumor has it that SOUFEEL Jewelry will be giving away over $100,000 in Black Friday coupons to customers. However, there are more surprises that SOUFEEL Jewelry will only announce on the day of the event. The Cyber Monday blow out event, between December 1 and December 4, will have shoppers saving more money than ever before. These two big events will be the best time to buy Christmas gifts that your friends and family will love.
SOUFEEL Jewelry was founded in 2011 and has been delivering the best jewelry shopping experience to its customers ever since. The brand prides itself in providing premium products at an affordable cost while delivering exceptional service. For more information or to save big from the different daily promotions, please visit http://www.soufeel.com.