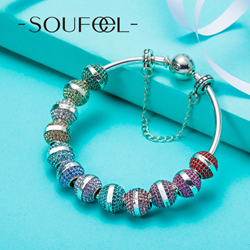 Soufeel - For Every Memorable Day.
New York (PRWEB) October 08, 2015
Soufeel is now offering alluring charms studded with top quality Swarovski crystals to its customers. The company has recently received authorization from Swarovski to use fascinating Swarovski crystals in their charms. Soufeel promises to offer premium quality charms and other jewelry items to its customers at discounted rates.
People wear charms to ward off evil, but the charms that are offered by Soufeel are also visually appealing, giving people a chance to turn them into a good piece of jewelry that they can flaunt. Soufeel's CEO Steven Gao said, "We believe in offering the best wearables to our clients. That's the reason we are using Swarovski crystals in our charms to make them look more fascinating. With these crystals flecked on our charms, you get a top quality jewelry item that will shine for a long time."
Soufeel also offers an array of jewelry items including bracelets, necklaces, earrings, rings, and gift items. Soufeel is holding a sale on its online store on almost every jewelry item. Their Swarovski crystal studded charms are one of their top grossing products. These items are designed using premium quality materials that are damage resistant. The company is also offering personalized charms to its customers with special needs.
Steven went on to say, "We are holding a mega sale on our newly stocked items. We believe in offering the most attractive deals to our customers and that's the reason we are giving away a free rose gold charm for orders over $99. Customers can also buy their favorite designs on amazing discount rate starting from $6.99. The jewelry items that we offer are extremely reasonable and made out of 100% 925 sterling silver"
Steven continued, "Customer satisfaction is our top priority, which is why we offer easy return on any item within 365 days of purchase. Our customers can also enjoy free shipping for orders over $50. Our company truly believes that great customer service is the best way to gain customers' trust, and that's why we keep offering value to them. We also aim at offering the best shopping experience to women all over the world. We truly believe that an unparalleled shopping experience is what results in higher customer satisfaction and retention."
Soufeel also offers personalized services to its customers that want to design their own charms. They offer a three-step process on their website to allow customers to pick a charm of their choice, upload the desired image, and proceed to the cart. Apart from the sale on new arrivals, Soufeel is offering a discount on its items starting from $6.99.
About Soufeel
Soufeel is a company that designs, manufactures and sells hand-finished jewelry items, and is in business since 2011. Founded by Steven Gao, Soufeel's main aim is to offer quality jewelry items made with premium materials. The company has also recently received authorization from Swarovski to make use of their crystals in their charms, which has made their products much more credible. All of the jewelry items offered by Soufeel are affordable and made out of 100% 925 sterling silver. Soufeel also offers 365 days returns & exchange, and free shipping worldwide for qualified orders.
Contact Information
Website: http://www.soufeel.com/
Email: cs(at)soufeel(dot)com
Address: SOUFEEL JEWELRY INC. 6025 32ND AVE S, SEATTLE WA 98118-3101, US