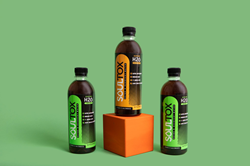 "As the fifth-largest economy in the world, California is the thought leader for the US Health & Wellness market and we look forward to our partnership with L.A. Libations SIP Program to lead our brand positioning and expanding our geographic footprint throughout California."
EL SEGUNDO, Calif. (PRWEB) March 30, 2021
Lucky Soul Inc., the maker of the SOULTOX, a "Better for You" functional recovery water, has entered a partnership with SIP – L.A. Libations beverage incubator, to lead the expansion of distribution and brand-building efforts in California.
SOULTOX stands out amongst competitors within the hydration category with key differentiators. This certified organic beverage contains a proprietary formula that gives consumers one of the healthiest and best-tasting recovery waters you can drink containing zero calories, sugar, sweeteners, carbs and stimulants, plus no added dyes or color enhancements. It is a complete source of all-natural plant nutrients with 77 trace minerals, 11 natural amino acids in an alkaline balanced state. The SOULTOX movement is about helping people "Rethink Their Drink" and join the fight against diabetes, which is quickly growing in America due to the obsession with sugary and unhealthy drinks.
Lucky Soul Inc., a certified minority business enterprise (MBE) based in Southern California, focuses on driving distribution of its SOULTOX Hydration line of products within strategic key independent retail, regional grocery and convenience channels. The company seeks to disrupt the market as a diversity supplier with an aim to improve racial equality and opportunities within the beverage space.
This development marks a major milestone in SOULTOX's growth and development as a California-based brand and in a practical sense allows the company to expand distribution into a new and lucrative market.
"As the fifth largest economy in the world at $3.1 trillion according to Forbes, California is the thought leader for the US Health & Wellness market and we look forward to our partnership with L.A. Libations SIP Program to lead our brand positioning and expanding our geographic footprint throughout California." Says Vinnie Merrill, Founder / CEO, Lucky Soul Inc. "My goal is to create a yummy tasting water made to help your Mind, Body and Soul perform better. In this space there are little to no black-owned brands on the shelves of national retailers across the country. Why?
Mr. Merrill continues, "Previously L.A.'s best kept secret, SOULTOX is no longer a secret as we feature the best-tasting recovery water on the market. SOULTOX has been featured in Founder's Made Discovery Showcase as a brand to watch in 2021, RetailMeNot's 102 Black-Owned Brands to Support Today and Always and BuzzFeed's workout recovery waters to buy. We can all agree that everyone needs a SOULTOX from the 2020 COVID impacts and racial tension nightmare to enjoy a brand that will 'Light Up Your SOUL'. A percentage of every product sold will go towards giving back towards the underprivileged and the black community as we strive to positively influence our underserved areas of color."
L.A. Libations created SIP in 2019 as an entry point into the L.A. Libations ecosystem where it leverages its distribution and retail relationships as well as its expertise to launch brands in Southern California. LAL is the key innovation partner of The Molson Coors Beverage Company and will join forces with SOULTOX to develop the brand and grow sales/distribution in the SoCal market. "SOULTOX offers a unique beverage with a patented process, that's great-tasting, all natural, and delivers superior hydration with additional functional benefits. A Soulful experience we know resonates with consumers and stores looking for a healthier & tastier hydration beverage. We are excited to welcome SOULTOX into our Incubation Program and look forward to supporting the brand's efforts!" stated Jacob Timony, Vice President of L.A. Libations and head of LAL's Incubation program.
Vinnie Merrill has recently appeared on Fox Business News Channel to discuss Lucky Soul Inc.'s focus on improving the health of Black Americans and how SOULTOX came about. You can view the whole interview following this link: Entrepreneur creates wellness brand after health scare | Fox Business Video.
About Lucky Soul Inc./SOULTOX
Lucky Soul Inc. is an inspirational apparel and wellness brand. Athletic infused designs that help streamline your active and casual style. Built on granting wishes for children & miracles for people truly in need, Lucky Soul was born and founded on the mission of creating a worldwide movement of promoting social good. Synonymous with Hope, Success, and the Power of Collaboration; Lucky Soul creates expressive products that are life affirming and help define one's soul. Current collaborations include NBA teams, Season of Wishes, Influencers from all walks of life, and Johnny Buckets, a new Black Superhero Comic character, who after a series of tragic events is given a power like no other to save his life.
SOULTOX is an all-natural super antioxidant 10pH Hydration and Recovery water containing a proprietary Fulvic & Humic acid formula that uses organic nutrients and technology to make water that helps boost your immune system, support digestive health, speed hydration and help fight free radicals invading the body and recovery. SOULTOX has been featured in Founder's Made Discovery Showcase as a brand to watch in 2021 and RetailMeNot's 102 Black-Owned Brands to Support Today and Always. and LA Weekly Holiday Celeb and influencer Gift Box. Your health is the most important investment you can make for yourself. We created this water to give consumers a healthier beverage option and to create healthier lives. Join us and together we can fuel the soul.
About LAL SIP
LA Libations SIP (So Cal Incubation Program) was launched in 2019 to work with pre-revenue and early-stage entrepreneurs and companies to create, develop and expand their brand footprints to win in the Southern California market. Leveraging L.A. Libations' brand building capabilities and deep retail relationships the SIP team leverages years of CPG experience and relationships to lead each brand through its incubation process with a high-energy, start-up mindset and spirited entrepreneurial passion. L.A. Libations meets with over 250 brands per year and is highly selective in accepting brands into the SIP program with successful brands evolving into broader commercialization opportunities.