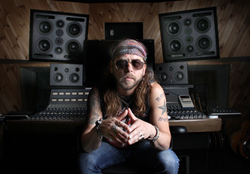 "We are accelerating our business growth through many channels and are very excited to include this thoughtfully targeted outreach to the music industry," said Michael Bizenov, Sound Royalties President.
NASHVILLE, Tenn. (PRWEB) September 27, 2021
Music royalty financing firm Sound Royalties continues its unprecedented growth by engaging well-known producer, engineer, and songwriter Elisha Hoffman to support the company as an industry relations ambassador, based in Nashville.
Sound Royalties is the industry's leading finance firm, helping creatives se-cure funding from their royalty streams without giving up ownership of their copyrights. As demand for its services has grown, the company has continuously expanded beyond its headquarters in West Palm Beach, Florida, to include staff in NYC, Atlanta, L.A., and Nashville. Hoffman is one of the newest music industry alums to team up with Sound Royalties to help represent the company through direct community outreach and exclusively curated events in Nashville.
Hoffman has spent his entire life in the music industry. He began playing drums in theater productions by the age of 10 and moved to Nashville at 18 to work as drum tech for the legendary Artimus Pyle of Lynyrd Skynyrd. He soon became a sought-after multi-instrumentalist, producer, songwriter, and programmer in the music community.
His credits include co-producing the remix of Shania Twain's "It's Alright" and the show-opening music for The Dixie Chicks Fly Tour, writing songs for artists like Faith Hill and country-pop sensation Runaway June, and co-writing the pivotal song "Give In To Me" for the major motion picture Country Strong. Hoffman's songs have also been heard on TV shows such as The Shield and Dark Angel. He is a founding member of The Loving Mary Band, Steven Tyler's country band, as well as co-founder of Pumphouse Records, which he launched with country star Lee Brice and hit songwriter Rob Hatch.
"We are accelerating our business growth through many channels and are very excited to include this thoughtfully targeted outreach to the music industry," said Michael Bizenov, Sound Royalties President. "We're proud to have Eli on board helping expand our footprint in the creative community of Nashville."
"Since day one, Sound Royalties has been an active part of the Nashville music community. We are glad to be continuing the expansion of our relation-ships and reach here," added Sound Royalties Nashville-based CEO, Alex Heiche.
A longtime resident and member of the music community in Nashville, Hoffman is well-positioned to evangelize the benefits of Sound Royalties' unique royalty financing model to music creators established in the business.
"As someone who has been immersed in the music industry for my whole life, I'm well-versed in the many options creatives face when it comes to taking full advantage of the earning potential of their work," said Hoffman. "Joining Sound Royalties to help bring their services closer to music creatives was an easy decision for me. A company that offers funding on all types of royalty streams without taking ownership, while offering the opportunity for ongoing cashflow is a valuable resource to my fellow musicians and others looking to grow and/or maintain their career in the music world."
About Sound Royalties
Sound Royalties, LLC is a specialty finance firm that helps music industry professionals fund personal and professional projects without ever taking ownership of their copyrights, allowing for pass-through income, and empowering creatives to choose from a variety of flexible pricing options. The company's core business is offering royalty advances of anywhere from $5,000 to the tens of millions. It does this by advancing artist, producer and songwriter royalties paid through music labels, distributors, publishers and PROs such as BMI, ASCAP, SESAC, SoundExchange and many more. Sound Royalties works with a wide range of music industry professionals, from emerging artists and rising stars to GRAMMY Award winners, platinum re-cording artists and notable music industry executives, as well as music distributors and record labels in every genre. Learn more at https://soundroyalties.com.
For media inquiries:
Dawn Kamerling
The Press House
dawn@thepresshouse.com
http://www.thepresshouse.com