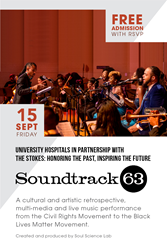 Consistent with University Hospitals' core values of excellence, diversity, integrity, compassion and teamwork, Soundtrack '63 is a fitting historical tribute to the timeless legacy of Mayor Stokes and Congressman Stokes.
Cleveland, OH (PRWEB) August 29, 2017
University Hospitals in partnership with the "Stokes: Honoring the Past, Inspiring the Future" Initiative to present Soul Science Lab's "Soundtrack '63", a live, multimedia musical performance and artistic retrospective of the African-American experience in America on Friday, September 15th at the Cuyahoga Community College Metropolitan Campus Auditorium at 7:30pm.
As part of the 50th anniversary celebration of Mayor Stokes and Congressman Stokes, this commemorative and historic edition of "Soundtrack '63" will feature performances by Cleveland native, poet and community leader, Basheer Jones, and will highlight the Stokes brothers lasting contributions to the city of Cleveland and beyond. The production connects generations through an immersive video of pivotal highlights prior to, during and post- Civil Rights Movement along with spirituals, protest songs, hip-hop, jazz, funk, soul and popular 20th century music performed by an 18-piece orchestra and a soul stirring vocal ensemble.
From the Black empowerment songs of James Brown to the outcries for justice in Ferguson, "Soundtrack '63" illuminates attention around one of the single most important movements in history, with messages that remain relevant today. It features music that mobilizes change and will inspire leaders for generations to come. "Soundtrack '63" soulfully explores the culture of the times in this compelling story of tragedy, triumph and transcendence. It celebrates the sights and sounds that defined an era. With commentary from some of the movement's renown voices, including Dr. Cornel West and Sonia Sanchez, Soul Science Lab duo Chen Lo (Creative Director) and Asante Amin (Musical Director), take the audience on a journey through milestone events in African-American history, highlighting the year 1963.
"Consistent with University Hospitals' core values of excellence, diversity, integrity, compassion and teamwork, Soundtrack '63 is a fitting historical tribute to the timeless legacy of Mayor Stokes and Congressman Stokes," said Margaret Larkins-Pettigrew, MD, Chief Clinical Diversity Officer at University Hospitals.
Originally commissioned by 651 ARTS and created by Creative Director Chen Lo, "Soundtrack '63" first premiered in 2013 as a millennial response to the major events of the Civil Rights Movement and significant moments in history that have defined much of contemporary America. The production has since then run sold out engagements at The New School's Tischman Auditorium in New York City and the Contemporary Arts Center in New Orleans, LA in addition to a demo presentation at the Brooklyn Museum and at Lincoln Center Education.
"Soundtrack '63" in Cleveland will be held on Friday, September 15, 2017 with a private matinee performance exclusive for the Cleveland Municipal School District and a free public performance at 7:30 p.m. Both performances will be held at the Cuyahoga Community College Metropolitan Campus Auditorium, located at 2900 Community College Avenue Cleveland, Ohio 44115. To RSVP for tickets, visit st63.eventbrite.com. Admission is FREE for the public performance.
To learn more about "Soundtrack '63" visit Soul Science Lab on YouTube. RSVP on Facebook at http://bit.ly/ST63CLEFB. To learn more about Soul Science Lab, visit http://www.soulsciencelab.com. To connect with Soul Science Lab, visit the Soul Science Facebook page, follow Soul Science Lab on Twitter and on Instagram @SoulScienceLab. Follow the online conversation with the hashtag #Soundtrack63. Downloadable performance images, bios and other "Soundtrack '63" press assets are available at http://bit.ly/ST63CLEDB. *Photo credit: Kamau Ware Photography and Xyenz Fyxion of XyFy Fotography.
For all Soul Science Lab media and booking inquiries, please contact Jasu Sims at jasu(at)presstheory(dot)com or by phone at (646) 820.9859.
# # #
ABOUT SOUL SCIENCE LAB
Innovative. Afro. Futuristic. Griots. Soul Science Lab (SSL), is a Brooklyn, NY based music and multimedia duo that translates stories into soul stirring sounds and dynamic visuals, formed by artist, educator and creative director, Chen Lo, and multi-instrumentalist, composer and producer, Asante' Amin. With a focus on high quality, timeless music, Soul Science Lab designs innovative arts education models and creates culturally responsive interactive experiences. In addition to international touring, their current projects include Chen Lo's album Footprints, Amin's album The Visitor: Alter Destiny, the orchestral, interactive documentary Soundtrack '63 and their newly released interactive album, Plan for Paradise. Co-founder Chen Lo is a seasoned artist, educator and creative director. This visionary mind has toured the globe, performing and leading master classes with a number of cultural arts institutions, including Jazz at Lincoln Center on the Rhythym Road, the August Wilson Center, 651 ARTS and others. Co-founder Asante' Amin is a gifted multiinstrumentalist, composer and producer. Most recently, the duo was featured in TheRoot.com's Black History Month series and VICE.com's publication The Creators for their 360 degree video, "I Can't Breathe." Offbeat Magazine calls Plan for Paradise "likely the most eclectic hip-hop record out this year." To learn more about Soul Science Lab, visit soulsciencelab.com.
ABOUT UNIVERSITY HOSPITALS
Founded in 1866, University Hospitals serves the needs of patients through an integrated network of 18 hospitals, more than 40 outpatient health centers and 200 physician offices in 15 counties throughout northern Ohio. The system's flagship academic medical center, University Hospitals Cleveland Medical Center, located on a 35-acre campus in Cleveland's University Circle, is affiliated with Case Western Reserve University School of Medicine. The main campus also includes University Hospitals Rainbow Babies & Children's Hospital, ranked among the top children's hospitals in the nation; University Hospitals MacDonald Women's Hospital, Ohio's only hospital for women; and University Hospitals Seidman Cancer Center, part of the NCI-designated Case Comprehensive Cancer Center. UH is home to some of the most prestigious clinical and research programs in the nation, including cancer, pediatrics, women's health, orthopedics, radiology, neuroscience, cardiology and cardiovascular surgery, digestive health, transplantation and urology. UH Cleveland Medical Center is perennially among the highest performers in national ranking surveys, including "America's Best Hospitals" from U.S. News & World Report. UH is also home to Harrington Discovery Institute at University Hospitals – part of The Harrington Project for Discovery & Development. UH is one of the largest employers in Northeast Ohio with 27,000 employees. For more information, go to UHhospitals.org.
ABOUT THE STOKES INITIATIVE
University Hospitals is proud to be a partner in the yearlong, community-wide commemoration of the 50th anniversary of Carl Stokes' election as mayor of Cleveland. Mayor Stokes and his brother, Congressman Louis Stokes, played key roles in the advancement of the city and the nation through the civil rights movement and beyond. More than 60 organizations and numerous individuals are affiliated with the Stokes initiative in different capacities, including conveners, honorary chairs, chairs, community partners and sponsors. For more information, visit stokes50cle.com.