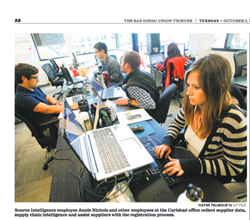 We are the only solution provider that offers attorney approved labeling...for Prop 65 compliance.
CARLSBAD, Calif. (PRWEB) October 08, 2018
Source Intelligence® Platform – awarded Product of the Year, Most Innovative Solution, Fastest Growing Compliance Solution and Most Promising Compliance Solution – offers the #1 Proposition 65 Compliance Program in the market.
"We've been in business for nearly 10 years," commented Jess Kraus, CEO and Co-Founder, "Over the last decade, we've earned market recognition as an award-winning technology with more than 55 compliance programs, including Prop 65."
Proposition 65, formally referred to as the California Safe Drinking Water and Toxic Enforcement Act of 1986, now carries a "clear and reasonable warning" amendment effective August 30, 2018. The Amendment requires companies doing business in California to provide more detailed warnings to consumers about significant exposures to chemicals that have been identified by the state to cause cancer, birth defects or reproductive harm.
With more than 500,000 platform users, Source Intelligence is the only solution that gives a quick and efficient assessment of your compliance and product labeling requirements. Critical to the success of the program is the team of California experts headed by 30-year California regulations veteran, Dr. J.L. Kraus, and Proposition 65 legal expert. "While we are global, our roots are here in California and our Proposition 65 technology and team are unsurpassed," noted Dr. Kraus.
"Managers responsible for implementing the new Prop 65 compliance requirements just want to know what to do and avoid the threat of 'bounty hunters' and potential litigation." Added Kraus, "We're the only solution provider that offers attorney approved labeling with a 24 hour to 30 day turn around – depending on the scope and complexity of your product line – via our technology, database of over 1 million products, and global supplier network."
ABOUT SOURCE INTELLIGENCE
Source Intelligence is a leading provider of regulatory compliance, environmental health & safety (EHS), sustainability and corporate responsibility data services and solutions. The company brings value to its customers by delivering an advanced platform-based, cost-effective technology with supply chain expertise and data services designed to help companies comply with the law, minimize operational and brand risk, and improve efficiency.
Founded in 2009 by career experts in environmental solutions and analytics, Source Intelligence® has headquarters in Carlsbad, California and operations worldwide. SI has received multiple awards, including the "GRC Innovation Award", "Product of the Year" and most recently, "Best Performing Supply Chain Solution Provider, 2018."
Media Contact: Lina Ramos, Chief Business Officer, 760-232-4087 or lramos@sourceintelligence.com