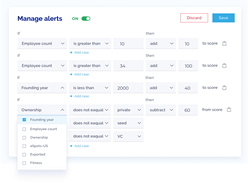 We are modernizing deal making one step at a time.
SAN FRANCISCO (PRWEB) April 27, 2021
SourceScrub LLC, the world's leading provider of private company intelligence for the financial services industry, has added Company Scoring to their platform. Company Scoring will allow investors and advisors to better navigate the expansive universe of Source Scrub's bootstrapped company data to ultimately source more and better deals.
Investors and advisors are facing significant challenges producing above-average returns in today's competitive market. There is over $1.9 trillion in dry powder in the market today and finding and executing promising deals is more competitive than ever. SourceScrub helps firms create exceptional returns through their unique data service, which provides clear signals on the most difficult-to-understand part of the market: bootstrapped companies.
Company Scoring allows firms to evaluate prospects based on their own investment signals and rules, enabling them to sift through the expansive data and better tailor their deal sourcing efforts to their investment thesis. SourceScrub's extensive platform offers company intelligence on over 1.6 million companies – 78% of which are bootstrapped companies – with the difficult-to-find data points necessary to properly evaluate a company.
"We are modernizing deal making one step at a time. Identifying the best investment opportunities requires not just a large universe of potential targets, but also the tools with which to query it. To date, scoring companies in this way has only been available to the most tech-forward investors and advisors. By bringing scoring into our platform, we're giving the average SourceScrub user an extremely powerful way to look at the market and execute their unique strategy. " said Vice President of Product, Josh Giglio.
For more information, please go to http://www.sourcescrub.com/use-cases/company-scoring
About SourceScrub
SourceScrub, LLC is the world's leading data service covering purely private companies. Founded in 2015, the company services hundreds of the world's top financial institutions helping them research, find and connect with private companies. SourceScrub leverages both human editing and machine learning techniques to build the most comprehensive and accurate data set available on the market. The Company has over 1.6 million companies in its database which is refreshed regularly. Over 78% of the private companies covered have no existing venture capital or private equity investment providing its customers a unique data service unparalleled in the industry.