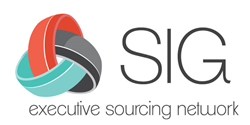 "We are delighted to partner with Everest Group to educate the market and provide our members with premier research that will assist them in making better decisions and understanding how to overcome the challenges of this radically evolving industry."
JACKSONVILLE, Fla. and DALLAS (PRWEB) February 14, 2019
SIG, the premier membership organization for sourcing, procurement and outsourcing executives, today announces a new partnership with Everest Group, a leading consulting and research firm that advises clients on strategic IT, business services and sourcing.
This relationship provides SIG buy-side members with insights and analysis to help them capture greater value from their contracts and provider relationships. SIG members can gain practical knowledge from the insights that Everest Group's research leaders offer in session presentations at SIG's Regional SIGnature Events and Global Executive Summits, including proprietary research that identifies and details what the best enterprises are doing to achieve exceptional outcomes through their sourcing strategies.
In March of this year, Everest Group and SIG will kick off joint research based on surveys and interviews to determine what the best-of-the-best companies are doing to achieve innovation in strategic sourcing. They expect to release findings of this Pinnacle Model™ analysis in October 2019. This will the first of several joint research projects the two organizations have planned.
"We are excited to partner with SIG, an organization truly dedicated to offering its members education, information, and insights to advance their sourcing journeys. With our keen focus on strategic sourcing and procurement, we are confident that the research we contribute will support SIG and its members' objectives," said Michel Janssen, Chief Research Guru, Everest Group.
Dawn Tiura, President and CEO of SIG, added, "We are delighted to partner with Everest Group to educate the market and provide our members with premier research that will assist them in making better decisions and understanding how to overcome the challenges of this radically evolving industry."
This partnership also provides SIG members with special pricing on Everest Group's Strategic Outsourcing and Vendor Management membership. To learn about the full benefits of this partnership and gain access to the research, visit our website.
About SIG
SIG, https://sig.org/ is a membership organization that provides thought leadership and networking opportunities to executives in sourcing, procurement and outsourcing from Fortune 500 and Global 1000 companies and the advisors who serve them. SIG is widely known as a forum for sharing "next" practices and thought leadership through live networking events, virtual forums and a comprehensive online SIG resource center (SRC), which was developed by and for professionals in sourcing and outsourcing. The organization is unique in that it blends practitioners, service providers and advisory firms in a non-commercial environment. SIG is also the parent organization for SIG University, a one-of-a-kind certification and training program for professionals and executives seeking deep expertise in sourcing and governance for themselves or their teams, as well as Future of Sourcing, which provides unrivaled digital content for the opinion-formers and decision-makers at the heart of the outsourcing space.
About Everest Group
Everest Group is a consulting and research firm focused on strategic IT, business services and sourcing. We are trusted advisors to senior executives of leading enterprises, providers and investors. Our firm helps clients improve operational and financial performance through a hands-on process that supports them in making well-informed decisions that deliver high-impact results and achieve sustained value. Our insight and guidance empowers clients to improve organizational efficiency, effectiveness, agility and responsiveness. What sets Everest Group apart is the integration of deep sourcing knowledge, problem-solving skills and original research. Details and in-depth content are available at https://www.everestgrp.com/.