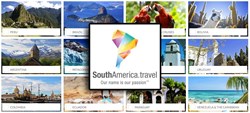 We've found that many travelers who come to South America want to see it all. We stand out from the competition because we cover the South America continent like no one else.
(PRWEB) January 29, 2014
The South America tour operator SouthAmerica.travel has solidified its focus in multi-country South America tours with its new custom tour app, which has been a success since its release in mid-2013.
The custom app, available on their website on their Custom South America Tour page, allows users to create a customized itinerary of their dream vacation to South America by following simple prompts and clicking on visually-stunning photos of different destinations. The app is simple, easy, and fun to use, which is important for web users.
"If you're interested in traveling to South America, you are probably getting excited about the possibilities and are eager to start planning your trip," said Kaitlin McMichael, Marketing Manager at SouthAmerica.travel. "We want to encourage that initiative by enabling our web users to plan their trip with a fun and exciting tool, not just a boring web form."
"We've seen a 421% increase in conversions resulting from our new custom app in the past 6 months since it's release," continued McMichael. "The data shows we are meeting a demand in the marketplace – people come to us wanting to customize trips to their preferences, rather than purchase a vacation package off-the-shelf. They come to us looking for expertise, and they are coming to the right place."
In addition to the custom tour app, SouthAmerica.travel has positioned itself as a leader in multi-country tours to South America with its new tour combos, offered on their website.
"We've found that many travelers who come to South America want to see it all," explained Bradley Nehring, the Vice President of SouthAmerica.travel. "We stand out from the competition because we cover the whole continent of South America like no one else."
With operations offices throughout South America, SouthAmerica.travel is able to offer their clients personalized, on-the-ground service and valuable prices. They have offices in Rio de Janeiro, Buenos Aires, and Lima. They also have a sales office in Seattle, WA, and Stuttgart, Germany.
Peru and Ecuador have been a popular combination in recent years. Machu Picchu and the Galapagos Islands are major travel destinations in Peru and Ecuador, and they are relatively close to each other on the map. The 12-day Galapagos Cruise & Peru Tour includes a 3-day cruise and a tour of all the highlights of Machu Picchu, Cusco, and the Sacred Valley.
Argentina and Chile tours are another common combination, since the two countries share a long border and there are many accessible border crossings. For example, many wine enthusiasts will cross the border between Santiago and Mendoza, to try the wines in Argentina and Chile. Or outdoor trekkers will hop between El Calafate and Torres del Paine National Park, two important destinations in Patagonia that are relatively close to each other. The 10-day Chile, Andes, & Buenos Aires Tour starts at $2696.
Argentina and Brazil has long been a popular combination for travelers, since Rio de Janeiro and Buenos Aires are two important cities on the Atlantic Coast, and within relative proximity of each other. Many travelers will also cross the border at the Iguassu Falls, a gorgeous set of waterfalls on the border between northern Argentina and southern Brazil. The 12-day South America Deluxe Tour starts at $4232.
One of the most recent tour combos is Brazil and Peru, since LAN airlines began a direct flight route from Iguassu Falls and Lima. It's simple to see Machu Picchu in Peru, and then fly from Lima to Iguassu, explore the waterfalls, and then continue on to Rio de Janeiro or Sao Paulo for a whirlwind tour of the continent. The 11-day Machu Picchu to Iguazu Falls Tour starts in Lima and ends in Rio de Janeiro.
SouthAmerica.travel plans to continue solidifying their brand as the experts in multi-country South America tours in 2014 and beyond.