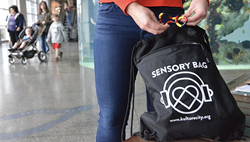 We are thrilled to lead the way and to implement this national program to provide the best visitor experience possible to individuals and families that visit the South Carolina Aquarium
CHARLESTON, S.C. (PRWEB) December 21, 2018
The South Carolina Aquarium has partnered with KultureCity, an organization dedicated to creating inclusion and acceptance for all individuals with unique abilities, to become the first organization to be certified as sensory-inclusive through their program in the state of South Carolina. This new certification will promote an accommodating and positive experience for all Aquarium guests by preparing Aquarium staff and volunteers to connect visitors of all abilities to water, wildlife and wild places.
South Carolina Aquarium staff were certified through a training led by a KultureCity representative. The certification process included in-depth training (both in-person and online) to enable staff members to interact with guests with sensory sensitivities. Sensory kits, equipped with noise-canceling headphones, fidget tools, and verbal cue cards, are now available to Aquarium guests for use during their visit. Additionally, the kits include a modified map of the Aquarium that indicates "headphone zones," as well as areas with a more calm and secure atmosphere. The kits can be checked out at the Aquarium's Information Desk located just inside the main entrance.
"Our organization prides itself on engaging our audiences to connect them to water, wildlife and wild places," said Brian Thill, South Carolina Aquarium director of education. "We are thrilled to lead the way and to implement this national program to provide the best visitor experience possible to individuals and families that visit the South Carolina Aquarium."
Sensory sensitivities or challenges with sensory regulation are often experienced by individuals with autism, dementia, PTSD and other similar conditions. KultureCity has certified more than 130 facilities nationwide, helping each destination become more welcoming of guests with sensory sensitivities by promoting and teaching sensory inclusion for all ages.
For more information, guests may call 843-577-FISH (3474) or visit scaquarium.org/sensory-inclusion. Media with questions should contact Bethany Morgan at 843-579-8660 or bmorgan@scaquarium.org.
About the South Carolina Aquarium:
The South Carolina Aquarium, Charleston's No. 1 family attraction, features thousands of aquatic animals from river otters and sharks to loggerhead turtles in more than 60 exhibits representing the rich biodiversity of South Carolina from the mountains to the sea. Dedicated to promoting education and conservation, the Aquarium also presents sweeping views of the Charleston harbor along with interactive exhibits and programs for visitors of all ages.
The South Carolina Aquarium is a 501(c)(3) not-for-profit organization and is open daily from 9 a.m. to 5 p.m. the Aquarium is closed Thanksgiving Day, half day Dec. 24 (open 9 a.m. to 1 p.m.) and Dec. 25. Admission prices are: Toddlers (2 and under) free; Youth (3-12) $22.95; Adults (13+) $29.95. For more information, call (843) 577-FISH (3474), or visit scaquarium.org.
About KultureCity:
KultureCity is a leading non-profit recognized nationwide for using their resources to revolutionize and effect change in the community for those with sensory needs, not just those with autism. In the past year alone, KultureCity has created several sensory-inclusive venues and events including the NFL Pro-Bowl, NFL Super Bowl, MLB All Star Weekend, 18 NBA arenas, 6 NFL stadiums, 5 NHL arenas, 3 MLB arenas, and countless zoos, science centers and aquariums across the nation.