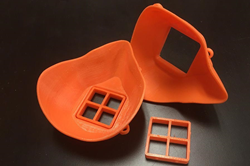 In just a couple of days we have brought together multiple departments on campus, faculty, staff, and student workers to address a dire need in our community.
RAPID CITY, S.D. (PRWEB) April 06, 2020
UPDATE: In an effort to help local healthcare providers overcome a global shortage of personal protective equipment (PPE) due to the COVID-19 pandemic, South Dakota School of Mines & Technology is working to design masks that can be used by the local community.
The project began following a meeting between Mines alumnus Brad Haupt, Vice President of Supply Chain and Contract Management at Monument Health, Mines President Jim Rankin and others on Saturday, March 21. Haupt expressed a concern over the long-term shortage of masks at Monument Health, especially in light of the COVID-19 outbreak. President Rankin offered Mines resources to help.
The effort, which quickly ramped up, currently includes faculty and students in the South Dakota Mines departments of industrial, mechanical, chemical, biological and biomedical engineering as well as chemistry, biology and health sciences. The departments began by 3D printing prototypes. Those prototypes have led to new designs and collaboration that can lead to eventual mass manufacturing.
The mask now in design at Mines was first inspired by a 3D printed mask developed in Montana in mid-March. That design was shared with the public though the Billings Clinic Foundation.
Mines faculty took the design and will continue working with officials at Monument Health to ensure the masks will provide proper protection. Mines faculty are also working with area manufactures to possibly mass produce any approved designs.
Science and engineering involve a process of trial and error, and this effort is evolving quickly. Those with questions or a willingness to help can reach the university at mediarelations@sdsmt.edu.
Monument Health is also seeking PPE from any other members of the local community who may have extra on hand.