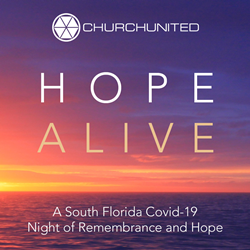 "In the midst of this pandemic, we want to provide a space for our friends, neighbors and coworkers to celebrate and honor those in our community who have lost their lives to this disease." – Edwin Copeland, Executive Director, Church United
FORT LAUDERDALE, Fla. (PRWEB) May 07, 2020
Church United, a network of over 150 churches in Dade and Broward Counties, is coming together to host, HOPE Alive - an evening of remembrance for South Florida residents who have lost their lives to COVID-19.
Christ Journey Church in Miami and Calvary Chapel Fort Lauderdale will partner with area pastors and community leaders to broadcast pre-recorded services on May 14 at 7pm that will honor and remember local residents who have lost their lives to COVID-19.
As COVID-19 continues to infect and claim the lives in South Florida, the Churches of South Florida want to acknowledge and remember that these are not just statistics and numbers on a website. They are friends, neighbors, co-workers, moms, dads, siblings and grandparents. These people were loved and most families who mourn them have not been able to have a traditional funeral or memorial service. This is where Church United seeks to serve the community by creating services led by pastors from different denominations and traditions, sharing words of hope and encouragement, along with the names and pictures of those who have passed away (submitted by family members) will be shared.
The services will be approximately an hour long, acknowledging the loss of:

Grandparents
Sons and Daughters
Friends, Neighbors and Co-Workers
First Responders
Music will be provided by Calvary Chapel and Christ Journey worship teams
Pastors from various denominations will be speaking
Family and friends that wish to have their loved one remembered should visit hopealivefl.com to submit their loved one's name and picture by end of day May 11th.
"In the midst of this pandemic, we want to provide a space for our friends, neighbors and coworkers to celebrate and honor those in our community who have lost their lives to this disease. South Florida is our home. We live, work, raise our families, and worship here. Its pain is our pain." – Edwin Copeland, Executive Director, Church United
To learn more about Church United, or their efforts to serve the community during COVID-19, please email Cole Hopper (chopper@ncfgiving.com) or call 754-900-2112
https://churchunitedfl.com
IG: @churchunitedfl FB: @churchunitedfl TW: @churchunitedfl
###