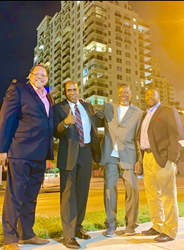 We are not in the business of misleading the youth, defrauding the state nor any investors of the community.
MIAMI (PRWEB) September 26, 2019
It's a known fact that unity and justice for all was a common theme for Dr. Martin Luther King Jr., the National SCLC, and those who peacefully protested for equality, many even lost their lives in pursuit.
"Let's make this clear, we the SCLC ( Southern Christian Leadership Conference ) of Miami, national and abroad are not in the business of misleading the youth, defrauding the state nor any investors of the community" said Robert W. Alexander III the newly appointed leader for the Miami SCLC serving all of South Florida.
"One of the most important elements moving forward with the beautiful communities of Miami Dade and Broward County will be implementing the trust factor, as someone whom over-stands that the hardships and successes in life work hand in hand. I feel and have heard first hand that the youth and many elders are having a hard time putting their trust in elected officials, community leaders, and the religious community. We are in the Jetsons now, months away from the year 2020 and the New Miami SCLC is here to unify the generations of all races, all colors, all cultures, and creeds," says Robert W. Alexander III.
He has comprised a core team in my vision of unifying the Miami SCLC and the residents of Broward and Miami Dade County:
In a show of unity, he has brought in James Williams of Birmingham Alabama (Home of the Beginning of the Civil Rights Movement) on-air personality of 98.7 Kiss FM and 20 year Community Activist Leader.
Also Jerry McCormick, former recording artist and member of South Florida's Hit Band "Silver Platinum," military veteran, and child of the civil rights movement.
Alongside Mr. Williams and Mr. McCormick, he has brought in his wife Tasha Alexander, Co-Founder of 360Wise Media, Co-Founder of MassMediaHub, devoted Women's and Children Rights Activist and a longtime Homelessness advocate.
Quote: "The ultimate measure of a man is not where he stands in moments of comfort and convenience, but where he stands at times of challenge and controversy." Martin Luther King, Jr
We also are blessed to have a dedicated and prestigious board of advisors:
Civil Rights Icon Attorney Benjamin Crump
Music, Technology and Fashion Icon MCHammer
Attorney, Advocate, and Activist The Justice Fighter Gerald A. Griggs
Emmy Award-Winning Producer A.Curtis Farrow
Activist and CEO of AllHipHop "JIGSAW" Chuck Creekmur
Activist and Former Gang Leader "Silky Slim" Arthur Reed
Ex-Private Investigator and Police Officer, Miami Resident and Youth Advocate, Jason Bernard Hayes
International TV Influencer, World Of Dance, Strictly and Dancing With The Stars - Gary "Ballroom Giant" Edwards
About Robert W. Alexander III :
Robert W. Alexander III (360WISE) is a husband of 20years, father of 8 beautiful children, God Fearing, Know Thy Self, Successful Businessman, Brand Owner, Activist, Advocate, registered and recognized SocialMedia Brand Marketing Influencer, and Journalist.
Washington DC native and 20 year resident of South Florida Robert is the Founder and CEO of 360WiSE, MassMediaHub and now CEO /President of the New Miami SCLC which is a non-profit pending 501c3 status.
Robert W. Alexander III has a known track record of working directly with Icons and the most prestigious Public Figures, Actors, Artists and Brands in the USA and UK.
His passion for helping spread brand awareness, advocacy helping the elderly and youth makes him the perfect, energetic and transparent civil and human rights leader for the entire South Florida.