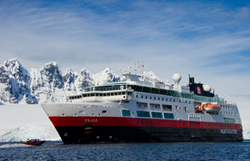 "We are excited to partner with Hurtigruten, selling expedition cruises to Antarctica and South America. Get the best of both worlds when you combine a land based tour package with a cruise." Juergen Keller, SouthAmerica.travel CEO.
Seattle, WA (PRWEB) November 09, 2016
SouthAmerica.travel is excited to announce their new partnership with Hurtigruten, selling expedition cruises to Antarctica and South America. This collaboration with Hurtigruten, allows SouthAmerica.travel to offer more options to their clients looking to combine exploration based cruises and land packages around South America and to Antarctica. Hurtigruten's comfortable ships, environmentally conscious principles, unique itineraries and team of experts align with SouthAmerica.travel's high standards to provide quality and authentic trips throughout South America.
CEO Juergen Keller states, "Combining a land package to see the highlights of South America with an expedition style cruise, is not only a fantastic way to travel, but it is also cost effective. After flying all the way to South America for a cruise, why not continue your travels with a tour to Machu Picchu or Iguassu Falls."
SouthAmerica.travel is excited about Hurtigruten's Antarctica cruises aboard the MS Fram and the MS Midnatsol. These expedition cruises are designed to bring out the inner explorer in every passenger, combining nature and wildlife for an unforgettable journey. Choose anywhere from 13 to 20 day cruises that depart from Ushuaia, Argentina and sail to the southernmost continent, crossing the notorious Drake Passage. Cruise past marine wildlife, impressive glaciers and massive ice fields. Join the Expedition Team on a variety of excursions, including hikes to penguin colonies, kayaking past magical ice fields and a visit to Cape Horn.
For a warmer cruise, consider the Green Coast of Brazil or the Expedition to the Amazon. Relax in the sun and sway to the rhythms of samba from Uruguay to Brazil. Cruise past the lush landscapes, see flora and fauna in the Amazon and venture to picturesque colonial cities on these Hurtigruten voyages.
All of the ships in Hurtigruten's fleet are modern and comfortable, complete with excellent amenities and services. Bring binoculars to the outside deck or admire the changing landscapes from the observation lounge through the panoramic windows. Enjoy delicious cuisine, interesting lectures, on board activities and comfortable suites. There is never a dull moment on a Hurtigruten Expedition cruise.
To book a Hurtigruten cruise around South America or to Antarctica, contact SouthAmerica.travel. SouthAmerica.travel can arrange all the flights, reserve the cruise and create a pre-cruise and post-cruise custom tour package. Seamlessly combine a land package to Machu Picchu, Iguassu Falls, Rio de Janeiro or Buenos Aires with a Hurtigruten cruise for the complete South America experience.
-------------
About Us: SouthAmerica.travel is an online travel agency and tour operator specializing in 4-star and 5-star customized tours to South America. SouthAmerica.travel LLC is a U.S. based travel agency and tour operator with offices in Seattle, Rio de Janeiro, Buenos Aires, Lima and Stuttgart, Germany. They offer 4-star & 5-star South America tours to Brazil, Peru, Argentina, Colombia, Ecuador, Bolivia, Chile, Paraguay and Uruguay. Licensed and bonded in the U.S., the company has been sharing its love of South America travel since 1999 and is proud of its A+ rating by the Better Business Bureau and they are members of the ASTA. The company stands by its commitment to offer valuable travel packages, trustworthy sales practices and real-world South America travel expertise.