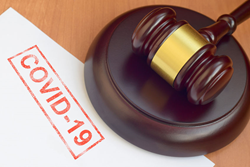 We've implemented protocols to help keep us and our clients safe from COVID-19. Some of those protocols include over-the-phone bond processing, protective shields, mandatory face masks, temperature checks for all employees, and disinfecting surfaces between clients.
DALLAS (PRWEB) February 06, 2021
Your loved one has been arrested and you need to post bail bonds for their release – but how do you post bonds and stay safe from Covid-19? Are they in a county jail or do they need immigration bonds? Life doesn't stop due to the current pandemic and many families still find themselves needing to post Dallas Bail bonds even in the midst of a pandemic.
At Southern Bail Bonds Dallas, the company understands the seriousness of the pandemic, and as a client centric company, they are also aware that safety is a top priority for their clients. That is why the company is sharing these 6 tips on posting bail bonds in the midst of a pandemic, no matter what city you live in:
1. Call The Bail Bonds Company First
Instead of just showing up at the bail bond office, call first. Ask if they have options for processing bail bonds paperwork that don't require an in-person visit.
2. Process Your Bail Bonds Over The Phone If Possible
Look for bail bond companies that allow bond processing over the phone. Obviously, if you don't have to go into the office, this will be your best and safest option. Many bonding companies will take your information over the phone and then send the documents to you electronically to sign.
3. Is Faxing Bail Bond Forms An Option?
Ask! If you're set up to receive faxes, ask if the forms can be faxed to you. If not, then ask about email. Basically, you're looking for an option that does not require you to physically go to their office. However they get the documents to you, you'll need to review them carefully and follow their instructions for returning the completed documents.
You will most likely be required to send copies of your state issued ID to prove your identify. You may also be required to show proof of where you live, like a copy of a recent utility bill. This is normal. Be sure to call the office to get clarity if you have questions before you sign anything.
Once the documents are returned, the staff will perform a thorough review and contact you if anything is missing or if there are any unanswered questions. Clients can also call the office to inquire about the status of their paperwork.
4. In-Person Processing
The bail bond agency you've contacted may not offer a way to process bonds without coming into the office, or maybe you just prefer to do business face-to-face, that's ok. Be sure to ask what protocols they've implemented to keep them and their customers safe during this pandemic. Most likely masks will be required for everyone entering the office, including children. They may have installed protective barriers or plastic shields. It all helps. Whatever the situation, just make sure you feel safe.
5. Bail Bond Payment Options
Most bond companies offer either online or over the phone payment options. If you're able to, consider processing your bond payment using one of these options. If you're processing your bond remotely, then processing the payment remotely completes the cycle without requiring a trip to the office.
If the payment is in cash, consider depositing the cash in the bank so it's available on a debit card or adding the funds to a prepaid card. Either option will help to limit your exposure and possibly save you a trip to the office.
6. Use Your Best Judgement
Sometimes neither of these options are available. In that situation, an in-person visit may be inevitable. Again, be sure to wear your mask and ensure anyone accompanying you wears their mask as well. And above all else, use your best judgement to stay as safe as possible.
Southern Bail Bonds follows the CDC's recommendations on safeguarding against the coronavirus. General Manager, Patrick Hill, states "We've implemented protocols to help keep us and our clients safe from COVID-19. Some of those protocols include over-the-phone bond processing, protective shields, mandatory face masks for all employees, temperature checks for all employees, and wiping down surfaces with disinfectant wipes between clients. These are just a few of the measures we've implemented. Our goal is to keep everyone as safe as possible."
Southern Bail Bonds Dallas is located at 3936 S. Polk St. #110, Dallas, TX 75224. They are available 24/7 and offer felony, misdemeanor, traffic and immigration bonds. For more information on posting Dallas bail bonds or if you have questions about how the bail bonds process works, call Southern Bail Bonds at 214-372-2500 or visit them online at https://southernbailbonds.com.