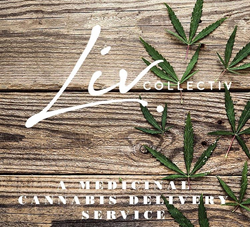 Our delivery service, Liv Collectiv, was organized in part, to guarantee safe access for California's medicinal cannabis patients
LOS ANGELES (PRWEB) June 06, 2019
Liv Collectiv Delivery Service, a division of the Can I Liv brand is known for its work in advocacy, wellness, product development, research and delivery in the budding cannabis industry. Liv Delivery Service, is a newly launched cannabis delivery company, that has acquired licensing and officially launched June 1, 2019. Its CEO Aja Fonseca-Arnold is no stranger to the cannabis and wellness space. Through personal experience and self healing with cannabis remedies. With over eight years of experience she has made patients her first priority in her quest to bring healing and education to the forefront with her delivery service and product lines. Providing education, a safe and reputable resource and affordability to patients is a primary concern and goal of the Liv Delivery service and has been for years since Can I Liv was founded in 2013. Liv Collectiv the product line was established to provide safe access for medicinal cannabis patients. The Liv product line includes Liv Collectiv Delivery Service, which is positioning their company as an answer to patients fighting to live through alternative wellness via cannabis remedies in safe and affordable ways. The Liv Collectiv brand its their very own brand "Liv", hemp derived CBD topicals, tinctures, and medicinal remedies. Their collection has been expertly crafted, and has been compassionately priced. Liv Collectiv has previously crafted top notch products via white labeling services for other strangers to the cannabis industry. The Liv brand has patient centered events scheduled to start June 15, 2019, with the first being Bonfire and Chill and several summer events and more to follow in the fall in the Southern California area.
Inspired by the plight of patients fighting for their lives, lobbying for rights, and struggling to afford medicinal cannabis, CanI?Liv organized its effort to educate, to advocate for legitimacy, and to offer safe, affordable alternatives to cannabinoid based remedies.There were many unanswered questions within the community, and so little education among the masses.
Their mission was to get an answer to the question, Can I Live? The answer is yes. Liv.
Rebranded, as LIV under CanILiv Systems, Inc. CEO, Aja Fonseca-Arnold states, "Patients can supplement their wellness responsibly, and of course, cannabis is OK! It's not a bad word. It's no longer taboo, but, a remedy which can easily be integrated into a lifestyle. Our delivery service, Liv Collectiv, was organized in part, to guarantee safe access for California's medicinal cannabis patients, just trying to live, and to maintain a standard of integrity for those in need of compassion this community was built on. We are a patients first establishment, and will always do the most for patients...just trying to live."
###
ABOUT LIV COLLECTIV DELIVERY SERVICE
Liv Collectiv, established in 2014, was founded on the principles of empathy and patient advocacy.
Empathy grounds our work. As we develop new products and enhance current offerings, we take a patient-first approach that encourages feedback and sources the latest groundbreaking research. Patient advocacy is a prominent pillar. We are dedicated to upholding patient rights and providing equity and access. Liv Collectiv devotes resources to educating key stakeholders about the medicinal benefits of cannabinoid-based remedies. As a cannabis and alternative medicine industry leader, we are committed to providing superior customer service and holistic products that support overall wellness, innovation, and sustainability.
SOCIAL MEDIA:
Instagram: @liv.collectiv
Website: http://www.livcollectiv.com
All interviews, press/media inquiries send to: classic(at)classiccpr.com