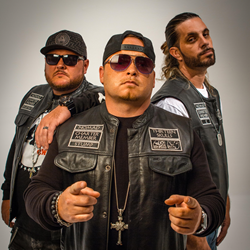 NASHVILLE (PRWEB) July 23, 2018
Southern Hip-Hop band I4NI have released their new album "Loyalty" accompanied by the video for the track "The Other Side." I4NI are Southern Hip-Hop/Rock legends their new album "Loyalty" is available wherever music can be purchased and was released on Thirteen Skulls Entertainment. The album features the rap-rock track "Larry Bird," which is a hip-hop tribute to NBA Hall of Famer "Larry Bird," along with the massive hit "Think It's a Game" featuring Bubba Sparxxx. The video for "Think It's a Game" is on the precipice to surpass a million views on YouTube. To celebrate the launch of the album, I4NI have released the music video for "The Other Side" online at https://youtu.be/c2Y27WdQVyE.
I4NI continue to perform as primary players in the rock/country rap scene from their production credits for chart-toppers like Big Smo, The Moonshine Bandits, and The LACS. If the members don't have their heads in the studio creating groundbreaking music, their production company Dammit Boy Entertainment is crafting the vision behind music videos for Twang and Round, Big Smo, Bubba Sparxxx, and Lenny Cooper all which have generated millions of plays online. I4NI is the story of rising above the odds and smashing stereotypes about the merger of rock, and rap and their ability to coexist.
Collectively, I4NI has amassed millions of views on YouTube, and the group scored one of the best-selling singles on the "Mud Digger" compilation series with "When I'm Gone" featuring Bubba Sparxxx. The single earned I4NI a whole new group of fans, while the song has racked up more than 2 million views on YouTube and another million spins on Spotify.
About Thirteen Skulls Entertainment:
Thirteen Skulls Entertainment was founded by music industry veteran Ron A. Spaulding and Major League Baseball Hall of Famer Frank Thomas and is in partnership with AMPED Distribution/Alliance Entertainment. Thirteen Skulls Entertainment focuses on the "AmeriFlow" genre, which is a musical hybrid of country, rap, and rock. The label provides a full range of services in the fast-changing music business and offers artists home with the necessary tools to nurture and incubate creativity without constraints. Focuses on creating AUTHENTIC music, Thirteen Skulls Entertainment's legacy will be defined by creativity and uncompromising commitment to artistry.
For more information, please visit http://www.thirteenskullsent.com and http://www.i4NiNation.com.