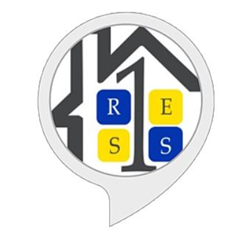 "...They built their business to improve the consumer experience. The concept of Ai tech for on-demand services has a wow-factor and support a good cause: 25% of proceeds from B2B clients are donated to advocate against DV/VAW. I'd say I'm SOLD, but their services are also free to the consumer."
WHITE PLAINS, Md. (PRWEB) September 25, 2019
Thinking the cost must be outrageous? Think again. Businesses can hire the Real Estate 1 Stop Shop to put their brand and FAQ's on the skill for less than $100 per month. The service is designed to fill the revolutionary role of Ai VP of Sales and Marketing in an outside of the [box] capacity for businesses with consumer-facing customers.
The platform provides exclusivity to businesses which are vetted by a 3rd party. The competitive advantage the exclusivity provides is equivalent to a business showing up on Google as the only website for a business with service requested in an online search. The company has built the skill to deliver on-demand information, frequently asked questions, and services for consumers that are annoyed with the played-out sales tactics received from traditional online inquiries.
For businesses, for an affordable monthly subscription to the service, the company delivers a unique and exclusive opportunity to keep the pace with today's massively growing Ai technology.
The following is an inside look at the deliverables, free to consumer users:

Provides a fresh, exceptional, invigorating consumer experience;
Allows users to ask Alexa for information about any real estate related service, engage with frequently asked questions about buying, selling, mortgage financing, home maintenance, and send referrals to friends and family across the US;
Allows users to ask Alexa for information about everything else, such as, find live music venues, take them to the local Tiki bar, find a seafood restaurant and even make reservations for dinner;
Allows users to get directions to local establishments via SMS or Email, and/or request to be contacted directly by any of the subscribed businesses; and,
When users request a service not yet available on the platform, the company acts as a personal concierge for the user, and prioritizes the request to fill the available spot.
As the skill grows in users, services and subscribers, the company plans to offer the ability to make travel reservations, obtain concert, venue, and event tickets, and even reserve watersports and other activities while on vacation.
The Ai VP of Sales, Marketing, and Business Development using VUI engagement effectively demonstrates the 7-P's of Marketing for any business subscribed and creates direct, exclusive exposure to target markets.
An insider's look at the value proposition for B2B subscribers is boldly unique as subscribers receive the following features and benefits:
Generates interest and qualifies the consumer using utterances of keywords;
Provides a direct connect of a brand's FAQ's regarding their products and services to interested consumers, on-demand;
Creates automatic, consumer-facing referral partners in local target markets and National referrals for local placement;
Acts as an Ai CRM with automated SMS and email communications, service ratings, and social media reputation management through custom-built workflows;
Provides a unique overhaul to the traditional sales cycle;
Provides options for custom API's to provide premium content to consumer prospects, on-demand;
Creates immediate referral partners with subscribed local REALTORS using a web-based transaction management platform;
Creates brand awareness with fun and unique networking opportunities using a 3rd party vendor, Goose Chase ™ via Real Estate 1 Stop Shop's, "My City Scavenger Hunt" missions, (see attached instructions to play);
Provides remote recording and professionally edited promotional videos with incentives for the public to make viral;
Provides co-branding opportunities with members of the National Association REALTORS©; and finally,
Subscribing brands are immediately positioned as philanthropists with National recognition as the company designed their revenue model to donate 10% to 25% of all revenues to their foundation that helps victims of domestic violence, teen dating violence, sex trafficking victims, and child abuse.
To-date, the skill features the following services for specific zip codes and continues to add services every day:
Real Estate Relocation Referral Services
Property Management Services
Residential Construction Renovation Services
Professional Maid/House Cleaning Service
Professional Home Inspection Service
Listing Photography | Drones | Professional Wedding Photographers
Restaurants
Tiki Bars
Pharmacies
A consumer video demonstration available on the company's YouTube Channel resulted in the following testimonial, "This company cared so much about the consumer at large, they actually built an entire business around improving upon the consumer experience. The concept of Ai technology & consumer voice engagement for services in localized markets is not only unique with a wow-factor, but this company also has a revenue model that automatically supports the fight against domestic violence, violence against women, teen dating violence, sex / human trafficking, and child abuse. Now that's remarkable! I would say I'm SOLD, but their services are also free to the consumer." ~ Wade Elliott, Singer, Songwriter, & Musician
Here's an exciting tidbit regarding Amazon Alexa, as per TechCrunch.com, Amazon Alexa consoles are already in the homes of half of all US households, (Source). For additional information or help with Alexa Skills Console or Alexa Mobile App, click here.
For more information, please address the company's media contact.