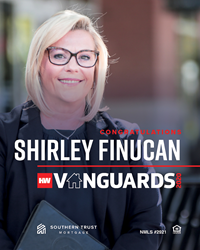 Shirley's tremendous courage and passion for finding new ways to serve our customers and employees inspire all of us. - Tuck Reed, CEO of Southern Trust Mortgage
VIRGINIA BEACH, Va. (PRWEB) October 01, 2020
Southern Trust Mortgage is proud to announce that Shirley Finucan, Executive Vice President and Chief Operating Officer, has been named as a 2020 HousingWire Vanguard. The prestigious Vanguard award recognizes the nation's top 50 executives in the housing finance industry for their outstanding leadership and accomplishments in the last year on both a company and national level.
"One of the highest achievements in the housing industry, the Vanguard award honors the top executives - and they certainly earned it," said HousingWire Magazine Editor Kelsey Ramírez. "In the program's most competitive year yet, 50 winners rose to the top, boasting their outstanding achievements in innovation and leadership. With these leaders at the helm, the future of housing is bright."
Shirley Finucan is an industry veteran who is pushing the operations side of mortgage lending forward. She has completely revamped Southern Trust's operations structure into a region-based team system, giving our loan officers the peace of mind that comes with working with the same team of processors, underwriters, and closers on every loan. Shirley also developed our Priority Approval program, giving our loan officers the ability to have a fully underwritten credit approval for their buyers in less than 24 hours. The ability to thrive in an ever-changing landscape for decades, keeping up with all market demands, and bringing about major system improvements have made Shirley an invaluable team member and a proven leader in the mortgage industry.
"Shirley's tremendous courage and passion for finding new ways to serve our customers and employees inspire all of us," said Tuck Reed, C.E.O. of Southern Trust, "It's wonderful to see her extraordinary leadership recognized by the entire industry."
About Southern Trust Mortgage:
Southern Trust Mortgage is an established mortgage banking company that was founded in 1998 that has served more than 70,000 families throughout the East Coast. Southern Trust Mortgage LLC is proud to be an Equal Housing Lender and Equal Opportunity Lender. Visit southerntrust.com to learn more.