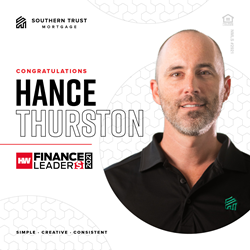 Hance's tremendous courage and passion for finding new ways to serve our customers and employees inspire all of us - Jack Lane, President of Southern Trust Mortgage
VIRGINIA BEACH, Va. (PRWEB) May 03, 2021
Southern Trust Mortgage is proud to announce that Hance Thurston, Head of Capital Markets, has been recognized as a 2021 HousingWire Finance Leader. The Finance Leaders awards recognizes the top finance executives who are driving financial performance, expanding margins, improving liquidity and helping their businesses access the capital markets.
"The last twelve months have been one of the most tumultuous and action-packed periods in the history of housing finance. It's incredibly notable that the organizations that had their financial strategy in order prevailed and were able to benefit from housing and capital marketing dynamics in a big way," said Clayton Collins, CEO or HW Media. "We launched the HousingWire Finance Leaders award to recognize the CFOs and senior finance executives who enabled growth, led IPOs and fundraising initiatives and helped their companies capture market share."
Hance Thurston was selected by HousingWire's Selection Committee based on his professional achievements within Southern Trust Mortgage, contributions to the overall housing economy, client impact and personal success. Hance shares this award with a selective group of just 40 finance professionals.
Hance serves as the Head of Capital Markets at Southern Trust Mortgage's Virginia Beach Branch.
"Hance's tremendous courage and passion for finding new ways to serve our customers and employees inspire all of us," said Jack Lane, President of Southern Trust, "It's wonderful to see his extraordinary leadership recognized by the entire industry."
About Southern Trust Mortgage:
Southern Trust Mortgage is an established mortgage banking company that was founded in 1998 that has served more than 70,000 families throughout the East Coast. Southern Trust Mortgage LLC is proud to be an Equal Housing Lender and Equal Opportunity Lender. Visit southerntrust.com to learn more.