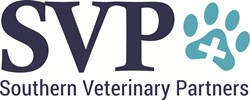 "By welcoming our 150th hospital, we've reached an important landmark in what has truly been an amazing journey of growth. It's quite fitting that in spite of our regional presence, we've achieved this landmark back here in Birmingham where it all began." - Dr. Jay Price, Founder and CEO of SVP
BIRMINGHAM, Ala. (PRWEB) August 19, 2020
Southern Veterinary Partners (SVP) recently welcomed Britt Animal Hospital located in Birmingham, Alabama to its fast-growing family of veterinary-owned and managed animal hospitals, reaching an impressive milestone of 150 locations across 15 states.
Founded just shy of six years ago, SVP grew from its humble origins into a powerhouse in the animal health space with a simple mission: to be a community of veterinary teams providing personalized care with exceptional hospitality.
True to this mission, SVP provides centralized support to the veterinary practices within its fold, enabling them to leverage the organization's infrastructure to support marketing, HR, finance, inventory, purchasing management, and access to enhanced employee benefits while being able to retain what makes each practice unique — their identities, culture, staff, and commitment to respective local communities.
Asked about the recent milestone, Dr. Jay Price, Founder and CEO of SVP who started the organization with his own animal hospital in Birmingham, Oak View Animal Hospital, enthusiastically reflected, "By welcoming our 150th hospital, we've reached an important landmark in what has truly been an amazing journey of growth. It's quite fitting that in spite of our regional presence, we've achieved this landmark back here in Birmingham where it all began."
As the COVID-19 pandemic continues to bring uncertainties to businesses everywhere, SVP is proving to be an indispensable ally for veterinary practices who are now having to navigate new challenges along with old compounded ones.
"SVP is one big working family which is why it is in our organizational DNA to help our partners and their practices succeed. It's an honor for us to be able to help groups such as Britt Animal Hospital who continue to go above and beyond for their communities even during these uncertain times. We simply could not be more driven in our mission and more proud of the groups we do it for," Dr. Price continued.
With its remarkable growth, Southern Veterinary Practices employs around 3,000 employees regionally to date. The organization's success has not gone unnoticed, landing them well-deserved industry accolades early on, most notably Inc. 5000's List of "Fastest Growing Companies in America" (2018 - 2020) and the Birmingham Business Journal's "FastTrack 30" of the Fastest Growing Companies in Birmingham (2017 - 2018).
About Southern Veterinary Partners
Southern Veterinary Partners, LLC (SVP) is a veterinarian-owned and managed regional network of animal hospitals providing the highest quality veterinary care to companion animals. The company is based in Birmingham, Alabama and is known for its stellar record of providing exceptional client care. Visit http://www.svp.vet for more information.