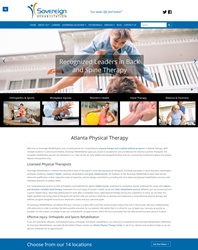 To ensure that our therapists are practicing at the top of their game is by providing them with access to the best continuing education resources. This course on advanced shoulder physical therapy will help enhance our team's best practices, says Alan Grodin, Director of Sovereign Rehabilitation
ATLANTA (PRWEB) January 09, 2020
Sovereign Rehabilitation is a comprehensive physical therapy and rehabilitation clinic, with locations in the Atlanta, Georgia, area. In an effort to continue to provide exceptional care for patients with the most up-to-date methodologies available, Sovereign Rehabilitation provides their therapists with professional development opportunities through educational in-services and advanced continuing education options. This February, in order to ensure their complex shoulder condition treatment routes are the best they can be, the medical team will be participating in a physical therapy course that is instructed by Dr. George Davies. As an internationally known speaker, he has presented at hundreds of conferences throughout the world on sports physical therapy, athletic training, shoulder, knee, open and closed kinetic chain topics, orthopedics, rehabilitation and isokinetics.
Over one-third of the training course will involve hands-on lab sessions utilizing case studies, clinical reasoning and problem-solving skills. A special focus will be on the algorithm-based examination format for the special tests of the shoulder. Updated evidence-based information on sensitivity/specificity and likelihood ratios of the tests will be thoroughly addressed. Discussion of evidence-based rehabilitation will include optimum exercises for the shoulder complex, shoulder taping, proprioceptive/kinesthetic training techniques and the scientific basis for plyometrics. Emphasis will be placed on evidence-based practices incorporating the examination, evaluation, diagnosis, prognosis, treatment intervention strategies and clinical outcome studies for patients with selected shoulder conditions.
"Sovereign Rehabilitation offers patients expert care that's provided by the industry's premier therapists. The very best way to ensure that our therapists are practicing at the top of their game is by providing them with access to the very best continuing education resources around. This course on advanced shoulder physical therapy will help enhance our medical team's best practices in this area," says Alan Grodin, Director of Sovereign Rehabilitation
About Sovereign Rehabilitation:
Sovereign Rehabilitation offers comprehensive physical therapy services delivered in state-of-the-art, fully staffed and equipped facilities that are conveniently located throughout the greater Atlanta metropolitan area. Sovereign Rehabilitation offers services, including orthopedics and treatment for sports-related injuries, treatment for workplace injuries, treatment for issues with balance and dizziness, complete hand therapy, treatments for a full range of women's health issues and other rehabilitative services for all ages.
To find out more information about the locations and the services offered by Sovereign Rehabilitation, please visit their website at http://www.sovereignrehab.com