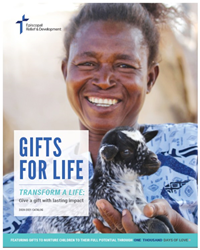 "This year we're all finding new ways to stay connected and to help people care for themselves and their families," said Sean McConnell, Senior Director, Engagement. "Supporting Gifts for Life with your family or congregation this Advent can bring lasting change to communities around the world."
NEW YORK (PRWEB) October 14, 2020
This holiday season, Episcopal Relief & Development invites supporters and congregations to sow seeds of resilience in communities around the world by giving a gift from Gifts for Life, the organization's alternative gift catalog.
Gifts for Life enables individuals and groups to transform lives in communities worldwide through the purchase of a wide range of gift offerings to support those communities. The 2020 catalog features new offerings such as the ONE THOUSAND DAYS OF LOVE package, which supports the organization's campaign to expand its work with communities and families to help children up to age six so they can thrive and achieve their full potential. The package includes:

care for five moms and their newborns,
nurture and nourishment for 12 children,
bicycles for three community volunteers,
mosquito nets and training for 10 families
four savings and loan group memberships.
"Gifts for Life can provide hope and resilience in a time of considerable uncertainty," said Betsy Deisroth, Vice President of Advancement for Episcopal Relief & Development. "Our new ONE THOUSAND DAYS OF LOVE gift package will provide tangible support for families in marginalized communities around the world."
Also new this year is a special COVID-19 relief kit. This gift will equip partners with the resources and knowledge to assist their communities in effectively preventing and reducing coronavirus transmission and to respond to cases as they arise.
Episcopal Relief & Development encourages both individuals and congregations to participate in Gifts for Life.
"The Gifts for Life program gives our youth the chance to learn about iniquities in our world AND to do something about it," said Megan Miller, Director of Youth Ministries, Christ Church, Winnetka, Illinois. "It also helps kids think about the Body of Christ expanding across the worldwide Church!"
In addition, Episcopal Relief & Development has created Advent resources to help families and congregations engage meaningfully with the ONE THOUSAND DAYS OF LOVE campaign and its work with children. These resources include a Gifts for Life Advent Calendar, a DIY Advent Wreath, Saint Nicholas Day materials and a DIY Creche that celebrates the Holy Family and those who gathered at the manger - as well as the gifts that nurture little ones.
"This year we're all finding new ways to stay connected and to help people care for themselves and their families," said Sean McConnell, Senior Director, Engagement, Episcopal Relief & Development. "Supporting Gifts for Life with your family or congregation this Advent can bring lasting change to communities around the world."
Purchases of Gifts for Life through Episcopal Relief & Development give people worldwide the chance to transform their lives in lasting ways. With each gift sent, supporters will receive a complimentary printed card or e-card telling loved ones about the life-changing gift made in their honor. Orders can be made online at http://www.episcopalrelief.org/gifts, over the phone by calling 1.855.312.4325 or via mail through the instructions on the catalog or brochure.
ABOUT EPISCOPAL RELIEF & DEVELOPMENT
For over 75 years, Episcopal Relief & Development has been working together with supporters and partners for lasting change around the world. Each year the organization facilitates healthier, more fulfilling lives for more than 3 million people struggling with hunger, poverty, disaster and disease. Inspired by Jesus' words in Matthew 25, Episcopal Relief & Development leverages the expertise and resources of Anglican and other partners to deliver measurable and sustainable change in three signature program areas: Women, Children and Climate.