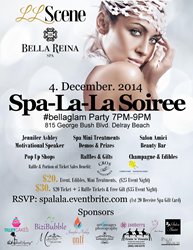 Enjoy demonstrations on triangle highlighting and contouring
Delray Beach, FL (PRWEB) December 02, 2014
Get ready to walk the pink carpet as Bella Reina Spa host its inaugural Spa-La-La Soiree on Thursday, December 4th. The chic Delray Beach spa has teamed up with LLScene for an opulent night to benefit CROS Ministries and the Chris Evert Charities.
The glamorous beauty event promises to be a lavish evening of pop-up shops, beauty demonstrations, champagne and one of a kind food. The idea for this soiree began six months ago and will culminate Thursday with the transformation of the spa into live beauty and food experiences.
DJ Supersede will rock the event while pop-up shops delight and touch every sense. From the whimsical Whisked Away hand-crafted spring rolls to Jennifer Ashley, a life coach who will provide on-site advice, the night will be a curation of luxury products, services and events.
"Spa-La-La Soiree is the perfect affair for our guests to enjoy and interact with some of the most desired products on a personal level. They will get to enjoy demonstrations on triangle highlighting and contouring of the face, the revolutionary lift and glow micro, just to name a few, said Nancy Reagan, CEO of Bella Reina Spa.
Luxury experiences will be provided by Supersede Group, Whisked Away, Tilley Cakes, ArtCImages Photography, BiziBubble, Palm Beach Woman Magazine,The Marrero Collection, Shari's Boutique, Onli Beverages, Jamberry Nails, Environ Skin Care, Dr. Grandel Skin Care, Phyris Skin Care and Salon Amici. The Spa-La-La partners will be providing gifts, raffle prizes and demonstrations from 7-9.
For more information or event tickets, please visit Facebook for Bella Reina Spa or LLScene, the Lifestyle.
About Bella Reina: Bella Reina is the leading spa provider and definitive authority on luxury beauty, wellness, and spa treatments. Bella Reina was created by Nancy Reagan, a nationally recognized expert in beauty, nutrition, weight loss, skin care, and makeup. Nancy and Bella Reina Spa have been featured in the New York Times, WebMD, Les Nouvelles Esthetique & Spa, and PC Advisor for spa industry expertise and business success. To learn more about how Bella Reina is constantly innovating both spa services, spa memberships and shopping for beauty, please visit BellaReinaSpa.com or MiBellaReina.com.
About LLScene: LLScene specializes in full service public relations and event planning. Co-Founders, Lindsey Swing and Lilly Robbins created LLScene with the intent on bringing businesses a lifestyle branding experience that would enhance their on and offline presence. As South Florida fashionistas, Lindsey and Lilly bring a fresh perspective to the world of blogging with LLScene, The Lifestyle Blog, which balances everything from fashion, beauty, fitness, events, weddings, and more. The goal is to keep you up-to-date and 'On the Scene' with the latest and greatest trends through their daily blog posts.