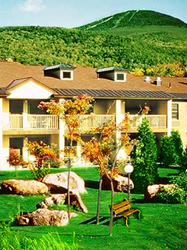 One of The Active Times' 10 Top Health and Wellness Vacations for 2015
Mendon, VT (PRWEB) March 24, 2015
New Life Hiking Spa in Vermont is one of the leading wellness and destination spas in North America. Founded in 1978 by Jimmy LeSage, M.S., New Life is celebrating its 37th anniversary in May 2015 with the grand opening of its new Cortina Inn and Resort location.
To celebrate this significant milestone and to introduce its new home, guests are being offered Spring Specials for the 2015 season, which runs from May 14th to September 28th. Three different options are being offered to persons who book their stay by March 31, 2015.
Guests that book an eleven night Weight Loss Retreat for single and double occupancy will receive a $300 discount off the total price. Persons with single occupancy bookings will receive $22 off per person/per night, while those with double occupancy bookings will get $35 off per person/per night. All reservations must be confirmed with a $300 deposit per person at the time of booking. Additional details can be found on the website at http://www.newlifehikingspa.com
About New Life:
Often referred to as one of the most affordable destination spas in North America, the regular prices range from $225 - $265 per night. Price includes a room, three healthy meals per day, fresh fruit and vegetables as snacks, one guided hike every day (three levels offered per day to accommodate everyone's fitness needs), all fitness and yoga classes, one massage for every three night stay and evening lectures and cooking demos.
New Life Hiking Spa is open each year from mid-May through the end of September. Approximately 600 guests from all over the world come to visit New Life in the Green Mountains of Vermont.
New Life has been consistently picked as one of the top ten spas in the world by SpaFinder Wellness Reader's Choice Awards for hiking, outdoor adventure, solo travel, weight loss, affordability and fitness classes over the past decade. In addition, founder and director Jimmy LeSage, M.S., was chosen as one of the world's top ten best spa managers in 2011.
Yankee Magazine selected New Life Hiking Spa as the 2012 Editor's Choice for "Best Place to Rejuvenate". New Life has also been selected as New England's top spa by Spas of America in 2010, 2011, 2012 and 2013. Most recently, it was on the 2014 listing with a #1 spot from all over America. The spa also holds an enviable spot on The Active Times' 10 Top Health and Wellness Vacations for 2015.
More information can be found on http://www.NewLifeHikingSpa.com.