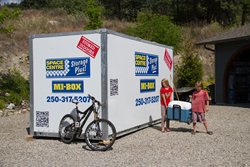 Okanagan residents are realizing they no longer have to move all their possessions in a single day using a mobile storage unit.
Kelowna, British Columbia (PRWEB) May 30, 2015
Summer in the Okanagan has become synonymous with fun, fantastic weather and endless outdoor activities. But it's also the busiest time of year for people to move, and it's one of the reasons Space Centre Storage experiences a spike in requests for a mobile storage unit Kelowna homeowners rely on to protect their belongings during transport.
According to a recent Change of Address survey conducted by Canada Post, summer is the preferred time for people to move. The number of people that move doubles in July, as compared with January. Canadians tend to move for several main reasons:

New addition to the family
Job relocation
Children leaving the nest
Retirement
Increase in cash flow
More and more homeowners are discovering the convenience of MI-BOX® portable storage containers, and Space Centre has also seen a corresponding bump in summer unit rentals. One of the major reasons for this is that Okanagan residents are realizing they no longer have to move all of their possessions in a single day, like they would if they rented a moving truck.
"The convenience of the MI-BOX® containers is what makes the service unique," says Yvonne Rogers, Space Centre's operations manager. "You can take time to load and protect your furniture from damages by only moving your items infrequently."
Clients can order a container well in advance, so they can pack at their leisure. And once the unit is full, Rogers adds they can either have it transported to the Space Centre's secure, temperature-controlled facility for temporary or long-term storage, or have it brought directly to their new residence.
"The size of the MI-BOX® container is convenient—8' x 16' x 7' fits into a typical parking spot," notes Rogers.
The MI-BOX® mobile storage unit Kelowna residents find so handy is also helping homeowners with other aspects of the real estate game. For people who are downsizing to a smaller dwelling, having access to extra storage for surplus items such as furniture and appliances is a big help.
Other Okanagan home sellers are using these portable storage units to de-clutter their homes in order to stage them better for prospective buyers, which can increase the likelihood of receiving an offer.
Sometimes a home needs a bit of a makeover before it's ready to hit the market—perhaps some new flooring or energy-efficient windows. Home renovators are using mobile storage units to store tools and building equipment or furniture on site, helping them work more efficiently and finishing projects faster.
For more information, please contact:
Yvonne Rogers
Operations Manager
Space Centre Storage
info[at]spacecentrestorage[dot]com
250-765-4125
http://www.spacecentrestorage.com/
About Space Centre Storage
Space Centre Storage in Kelowna has been providing Okanagan storage solutions since 1985. Residential storage services include self storage in a variety of units, the MI-BOX® portable storage containers, moving supplies, mailboxes and indoor and outdoor RV & boat storage. Space Centre Storage also offers commercial lease space, mini-warehousing, and forklift and load docks for business customers.