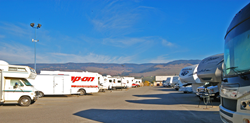 We have seen a real increase in demand for RV storage that's secure and paved, especially for the larger, luxury-style motorhomes and trailers.
KELOWNA, BC (PRWEB) May 30, 2017
The Okanagan's largest and most convenient Kelowna storage company is about to get even bigger as it opens a new RV storage centre—157 stalls designed to suit all sizes of standard and luxury RVs.
"We have seen a real increase in demand for RV storage that's secure and paved, especially for the larger, luxury-style motorhomes and trailers," says Yvonne Rogers, Operations Manager at Space Centre Storage. "We already have an RV lot, but it's always full."
The new premier RV storage area, set to open in June, will be conveniently located just off Highway 97 at 3150 Sexsmith Road, where the Space Centre Storage is home to nearly 350,000 square feet of personal and commercial storage space. The second RV centre will feature all the bells and whistles RV owners covet in a storage lot: security, paved foundation, easy access, and on-site amenities.
In addition to keypad entry and excellent lighting, the area will have 24/7 video surveillance, after-hours security patrols and fencing with razor wire.
"We know security is so important for our customers," says Rogers. "They're leaving a pretty prized possession here, and they want to know it's in good hands."
The RV storage centre will also feature wider, angled stalls and wider aisles as well as fresh water and a sani-dump. Users will have the option to be able to park their passenger vehicle in their RV stall when they head out.
All the specialty features, and the plans for the lot, came after the Kelowna storage company conducted a customer feedback survey.
"We asked our customers what they wanted to see, and these are the items that were important to them," says Rogers. She says Space Centre Storage has seen significant demand for RV storage even in the last two years as Kelowna's growing demographic of empty nesters move into the city, where they live in condos and spend holidays in their upscale RVs.
"These days a lot of people live in strata units where there is no RV parking on site or the bylaws simply don't allow RV parking on the street. Neighbours don't always like seeing a big rig parked on their block so this is an excellent opportunity for the empty-nesters."
Space Centre Storage is now taking reservations for the 157 stalls, which are expected to go quickly.
"This is really a one-stop shop for outdoor and indoor self storage, so customers store their RVs, their boats, their sports cars, their self storage possessions that don't fit in the condo, and so on," says Rogers.
About Space Centre Storage
Space Centre Storage in Kelowna has been providing Okanagan storage solutions since 1985. Residential storage services include self storage in a variety of units, the MI-BOX® portable storage containers, moving supplies, mailboxes and outdoor boat & RV storage. Space Centre Storage also offers commercial lease space, mini-warehousing, and forklift and load docks for business customers.
For more information, please contact:
Yvonne Rogers
Operations Manager
Space Centre Self Storage
yvonne(at)spacecentrestorage(dot)com
250-765-4125
http://www.spacecentrestorage.com