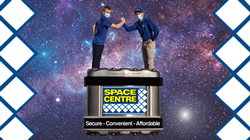 "It's important to us that our customers have a safe, secure, and seamless experience at our facilities," said General Manager Cameron Martyna. "To accomplish that, we are continually improving and innovating."
KELOWNA, British Columbia (PRWEB) February 10, 2021
Space Centre Storage – Western Canada's largest self-storage facility – is starting off the year with improvements to their facilities' safety and overall security.
The improvements include touchless lights, digital document signatures, new fencing, and two new gates with keypads for entry and exit.
"It's important to us that our customers have a safe, secure, and seamless experience at our facilities," said General Manager Cameron Martyna. "To accomplish that, we are continually improving and innovating."
IMPROVED SECURITY
Space Centre Storage has installed two new gates at its main facility, along with keypads that require a customer's passcode to enter and exit. These keypads are at entrances and exits across Space Centre's five locations. Additionally, the company is installing new fencing which will add to the security of the facility but also give it a clean new look.
"It's part of our motto: 'Secure, convenient, and affordable'," said Special Projects Manager Brett Martyna. "So we're constantly looking at additional security measures – you have to stay ahead of technology, it's constantly evolving. We strive to be proactive rather than reactive."
Space Centre Storage is a disc lock only facility. Disc locks are an industry best practice because they are far more secure than padlocks.
TOWARDS A TOUCHLESS FACILITY
Customers will no longer need to touch light switches, thanks to new contactless motion sensors in the hallways which line the rows of lockers.
Customers will also be able to sign digitally to avoid the need for paper signatures and in-person handling of documents.
Space Centre Storage continues to adhere to best practices around social distancing and sanitation for COVID-19. Their office is limited to three people at a time to limit congestion.
ABOUT SPACE CENTRE STORAGE
In business since 1985, the Space Centre is the largest and most established storage facility in Kelowna. With 380,000 square feet of space, the selection of sizes and features is unrivalled. Our mission is to provide our customers with storage solutions which are secure and convenient at an affordable price.
The Martyna brothers Cam and Brett recently took over management of the family business, following in their father's and grandfather's footsteps before them.
Space Centre Storage is open from 8 a.m. to 8 p.m., Monday through Saturday and from 10 a.m. to 5 p.m. on Sundays and holidays. Their two RV Storage lots are open 8 a.m. to 8 p.m. everyday!