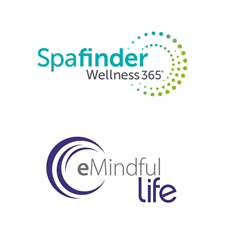 Huge changes undertaken all at once are hard. Our 1% Challenge starts with the premise that anyone can improve by one percent at a time.
Miami and Vero Beach, FL (PRWEB) January 07, 2016
With the start of a new year, millions of Americans have made ambitious resolutions to get fit, eat better, and lead healthier lives. In just a few weeks, many of those resolutions will have been broken. Spafinder Wellness 365™, in conjunction with eMindful, wants to help people do better in 2016.
Launching this week, "The 1% Challenge" is designed to help participants take a mindful approach to small, incremental changes that over time can help them reach and maintain their weight management, stress, pain management, fitness and other goals.
Developed by eMindful, the campaign works with the realities of behavioral change: People are far more likely to succeed by introducing small changes over time than by attempting massive, re-directional change all at once.
The 1% Challenge offers free, live, mindfulness sessions online led by eMindful's expert instructors. The program challenges Americans to put just one percent of each day—14 minutes—toward introducing small, manageable behavior changes with the goal of developing new habits that can be sustained throughout the new year and beyond.
"Huge changes undertaken all at once are hard," said Kelley McCabe, eMindful Chief Executive Officer. "Our 1% Challenge starts with the premise that anyone can improve by one percent at a time. For example, if you improve your strength by one percent each day, you double it in 70 days. You can improve your brain fitness as well, through mindfulness practice. Small changes quickly add up to a big difference. And over a lifetime, that can be transformational."
Participants may sign up to begin their personal Challenge any time between now and January 31. Once active, they gain access to a free 30-day membership to eMindful Life, offering users online access to live classes with new topics every day, a 24/7 conversation board facilitated by eMindful's teachers, support tools and more to help users stay engaged, inspired and committed to their personal challenge.
Every participant is rewarded for meeting Challenge goals. When a participant attends a Mindful Daily session:

At least 10 of 30 days, they win a one-hour premium, live course from eMindful.
At least 20 of 30 days, they win access to eMindful Life for one year.
All 30 of 30 days, they win a VIP eMindful Life membership and a subscription to Mindful magazine for one year. The first 100 participants to complete the Challenge also receive a free Muse biofeedback headband supporting training the mind.
Challenge participation also benefits eMindful's charity partner MindUP™, which was founded and is supported by Goldie Hawn and her foundation. For every 25,000 minutes of Mindful Daily meditation practice, across all Challenge participants, eMindful will donate $1,000 to The Hawn Foundation's MindUP, a research-based training program designed to help children self-regulate behavior and mindfully engage in the focused concentration necessary for academic success.
MindUP also supports the important work of nurturing optimism and happiness in the classroom, eliminating bullying and aggression, increasing children's capacity for empathy and compassion as well as resolving peer conflicts in schools.
As a 1% Challenge partner, Spafinder Wellness 365 will actively promote the Challenge to its wide audience of followers and its 25,000 wellness partners worldwide.
"At Spafinder, we believe wellness is a way of life, not a fad or a trend, and The 1% Challenge is a manageable way for everyone to introduce the good habits of mindfulness and thoughtful behaviors into their daily routine," said Spafinder Wellness Inc.® COO John Bevan. "Even better, the Challenge directly supports the efforts of MindUP, which introduces the same best practices to young children to help them develop the healthy habits that last a lifetime."
To learn more about The 1% Challenge and to get started today, visit https://life.emindful.com/opc/. An introductory video is available here.
About Spafinder Wellness, Inc.
Spafinder Wellness, Inc. is the world's largest marketing, gifting, incentives and rewards company for the wellness industry and the leading consumer resource for feeling good and living well all year round. With now over 25,000 wellness partners worldwide, including wellness travel destinations, fitness, yoga and Pilates studios, spas and salons, plus access to 4,500 massage therapists through Zeel's on-demand massage services, millions of people find the resources and inspiration to keep well every day via the Spafinder Wellness 365™ brand. The company's widely distributed gift/wellness cards are available online and at 40,000-plus retailers worldwide, as well as through corporate incentive/rewards programs. Learn more at spafinder.com, spafinder.co.uk and spafinder.ca.
About eMindful
eMindful provides researched-based mindfulness programs to help people better manage their stress, weight, awareness, chronic pain and overall wellbeing. It provides live, webinar-style courses, and supports a global community of mindfulness practitioners through eMindful Life.
The company's evidence-based programs have been widely adopted by leading employers and health insurers such as Florida Power & Light, State of Arizona employees and Aetna Inc. Tens of thousands of people have been trained through eMindful's programs since its founding in 2007. To learn more about eMindful visit eMindful.com.
Spafinder Wellness Contact:
Betsy Isroelit
Senior Global Media Director
213-300-0108
betsy(at)spafinder(dot)com
eMindful Contact:
Kevin Renner
SVP of Marketing and Product Management, eMindful
503-703-9662
Kevin(at)emindful(dot)com