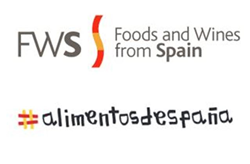 #SpainFoodNation
NEW YORK (PRWEB) November 04, 2021
The gustatory annual extravaganza constitutes the single largest Spanish wine and food event in the U.S., a bustling gastronomic marketplace showcasing 300+ of Spain's finest wines, replete with samplings of the country's signature dishes and superb culinary ingredients, seminars and speed-tastings presented by leading experts on Spanish wines and foods, food-and-wine-pairing challenges, gin & tonic, beer and sherry bars, not to mention an array of interactive activities and several chances to win a free round-trip airfare to Spain.
A series of invitation-only daytime seminars, tastings and activities for media and trade will commence at 11 a.m. At 5:45 p.m. VIP consumer access kicks off with a food and wine pairing seminar and early-bird access to the tasting. At 7 p.m. Spain's Great Match will open its doors to all paying consumers. Fully 100% of proceeds generated by sales of tickets for the consumer portion of the event will go to World Central Kitchen, an organization founded by José Andrés, dedicated to using food to nourish and empower communities worldwide in times of crisis and beyond.
WHEN:
Monday, November 15
11 a.m. to 4:30 p.m: trade + media sessions
5.45 to 7 p.m: VIP consumer ticket, seminar and early-bird tasting access (also available to trade + media)
7 to 9:30 p.m: general consumer ticketholder event access
WHERE:
Chef José Andrés' Mercado Little Spain, 10 Hudson Yards.
Street-level entrances on West 30th Street, between 10th and 11th Avenues
WHAT:
Spain comes to New York for an unforgettable day-long celebration of the finest of Spanish wines and gastronomy.
Walk-around tasting of 300+ wines and new vintages, as well as sherries, vermouths, beers, artisanal gins, and spirits.
Cooking demonstrations and food samples with recipes offered: paella cooked over a wood-burning stove, an array of Spanish fare, both classic and modern, plus a selection of the world's finest jamón, cheeses, canned seafood, and extra virgin olive oils.
Seminars: Four seminars for media and trade, including an evening cheese-and-wine pairing session also open to consumers. Master Sommelier Evan Goldstein and Ferran Centelles, sommelier at Ferran Adrià's renowned El Bulli for 13 years, now wine manager at Adrià's El Bulli Foundation and Spanish specialist for Jancisrobinson.com, will lead at least one seminar apiece, as well as at the consumer event. César Saldaña, President of the Jerez Regulatory Council will conduct a seminar and tasting highlighting the rich history, range and diversity of sherry.
Mixing the perfect gin and tonic: Bartenders in Spain have elevated the G&T to an artform. Enjoy a made-to-order G&T and tips on how to elevate your G&T expertise from stellar to superlative.
Food and wine pairing challenge: Vote for your favorite wine and food pairing from among 10 candidates submitted by 10 top sommeliers. Votes will appear on a live leaderboard, with participants eligible for a chance to win a free round-trip airfare to Spain.
Blind-tasting challenge: Test your tasting skills at a Blind Tasting Bar of four Spanish wines. Identify correctly for a further opportunity to win a free round-trip airfare to Spain (open to trade and consumers).
Art: An on-site artist will create an Instagram-able graffiti wall. Attendees can channel their inner artist by coloring in or making suggestions.
Speed-dating interactive mini guided tours: A series of 20-minute tastings, curated by a trio of Master Sommeliers, each dedicated to exploring a specific grape variety, for trade, media, and consumers.
WHY?
From Rioja to Ribera del Duero, Rias Baixas and beyond, with wines made from Tempranillo, Albariño, Verdejo, Garnacha and more, Spain is a treasure trove of vinous discovery and a leading source of imported wine in the U.S.
COST:
Trade and media: Free to qualified pre-registered members of the trade and press. Consumers: VIP ticketholders $145 | General admission $120. 100% of proceeds from ticket sales will be donated to World Central Kitchen (WCK). Founded by José Andrés in 2010, W uses the power of food to nourish and empower communities worldwide in times of crisis and beyond. WCK helped keep more than 2,000 restaurants open throughout the COVID-19 pandemic.
HOW:
Trade and Media Registration: https://spainsgreatmatchtrade.eventbrite.com
Consumer Registration: spainsgreatmatchtix.eventbrite.com
Facebook, Twitter, Instagram username @SpainFoodWine / hashtag #SpainFoodNation #SpainsGreatMatch
About Foods and Wines from Spain: ICEX Spain Export and Investment (ICEX) is the Spanish Government Agency that promotes exports and investment, enhances competitiveness, and assists Spanish businesses in international markets. Foods and Wines from Spain are ICEX's brands for a wide range of promotional activities designed to inform trade and consumers about Spain's wines, food products and gastronomy. For more information about Foods and Wines from Spain, please visit http://www.foodswinesfromspain.com.
#alimentodespaña is the Ministry of Agriculture, Fisheries and Food's brand for the promotion of Spain's identity through its food and agricultural riches. The history of Spain has been shaped by the contributions of different cultures over the centuries. One of the richest manifestations of this heritage is what is known as "the Mediterranean Diet," representing a model diet that is varied, tasty and balanced. Approved by UNESCO as an Intangible Cultural Heritage of Humanity. For more information about #alimentosdespaña, please visit https://www.alimentosdespana.es