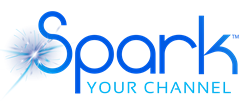 "Vaughn's breadth of knowledge around channel, sales, marketing, demand generation, and customer success, not to mention his stellar reputation with clients, solidifies our mission to be innovative, challenge the norm, and most importantly, do what is best for the channel." - Heather K. Margolis
BOULDER, Colo. (PRWEB) April 16, 2021
Spark Your Channel™, which was founded by channel marketing expert Heather K. Margolis (who also founded Channel Maven Consulting™ in 2009) announced today that Vaughn Aust has joined the Spark™ team as Chief Operating Officer.
As an artist and innovator, Vaughn will lead Spark's operations including sales, product, and customer success teams. Vaughn formerly led product and engineering on the team that built the first scalable Through Partner Marketing Automation (TPMA) system for the channel and has spent 25+ years leading product, technology and marketing teams in roles including Executive Vice President, Vice President of Digital, VP of Product Management and Managing Director.
Quotes
"Having known Vaughn for over a decade, his joining Spark™ was a no brainer. His breadth of knowledge around channel, sales, marketing, demand generation, and customer success, not to mention his stellar reputation with clients, solidifies our mission to be innovative, challenge the norm, and most importantly, do what is best for the channel." - Heather K. Margolis
"Heather and team have created a truly innovative solution that is focused on what customers want and partner's have asked for. I am excited to join the team and continue Spark's mission of customer centricity, innovation and leveraging personalized video in growing sales for our customers." - Vaughn Aust
See how Spark Your Channel™ works in our overview videos: Vendors Ignite the Power of Partners and Partners a Through-Channel Marketing Tool Built for Your Business. To demo Spark Your Channel™, contact ignite@sparkyourchannel.com.
About Spark Your Channel™
Spark Your Channel™ is an innovative demand generation company that helps businesses, their channel partners, and their sales teams drive more revenue. The Spark Your Channel™ through-channel marketing automation and sales enablement platform, which is built on 20 years experience in demand gen, sales enablement, and channel marketing, provides partners and sales people with automated customizable content, analytics, and modern prospecting best practices. Enterprise and large and mid-sized IT companies like Oracle22 Netsuite, Everbridge, and HPE are using Spark Your Channel™ to create more engagement, higher conversion rates, and to revolutionize the way they do demand generation including leveraging highly popular video content. Visit https://www.sparkyourchannel.com