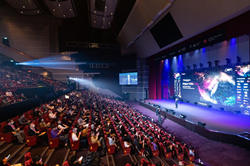 TAIPEI, Taiwan (PRWEB) November 17, 2020
SparkLabs Taipei, Taiwan's premier startup accelerator, has recently concluded its fourth demo day on November 4th, 2020. Drawing over 1,000 attendees, which included prominent venture capital investors and corporate executives. SparkLabs Taipei DemoDay 4 featured eight startup teams from their latest accelerator batch showcasing the problems they are solving and the recent traction they've achieved.
Co-Founder and Managing Partner of SparkLabs Taipei, Edgar Chiu said, "The global economy in 2020 has been greatly affected by the recent pandemic, and it has unexpectedly created a unique foothold for Taiwan's entrepreneurs. Some of the industries covered by the startups at DemoDay 4 include telehealth, e-commerce, and 5G infrastructure, which is aligned with the recent trends of the global technology industry. In fact, many major technology companies are currently seeking strategic partnerships and investments in these industries."
Winston Hsia, the Chief Investment Officer of CTBC Financial Holding Co., Ltd., the anchor investor in SparkLabs Taipei, said, "Given the global market conditions of 2020, investors are focused on supporting startups with a global vision and the ability to power enterprises via digital transformations."
According to the order in which they pitched on stage, here are the eight startups that presented at SparkLabs Taipei DemoDay 4:
EMQ (FinTech)
EMQ operates a global financial settlement network that enables global businesses and individuals to access real-time, affordable, and efficient cross-border payments with a simple one-stop integration, while adhering to complex regulations and compliance standards in different markets.
Today, EMQ's network footprint touches billions of people in over 80 key global markets throughout Asia Pacific, Africa, Europe and North America. Currently, the company is licensed in Hong Kong, Singapore, Indonesia and registered as a Money Service Business in Canada. EMQ was also accepted into Taiwan's Regulatory Sandbox by the Financial Supervisory Commission in Taiwan. EMQ recently closed a $20M Series B Funding round to accelerate its international growth, product development, and licensing activities across Asia, Europe, and the Americas.
Pickupp (Smart Logistics)
Pickupp is a data driven, AI-enabled logistic platform dedicated to supporting merchants with flexible and cost-effective solutions. Its platform connects and consolidates all types of assets in the supply chain to improve logistics scalability, flexibility and cost efficiencies.
Pickupp's customer base ranges from e-commerce, retailers, and F&B to multinational 3rd Party Logistics. It started operations in Hong Kong back in mid 2017, and expanded to Singapore and Malaysia in 2018. Starting in late 2020, Pickupp began operating in Taiwan, generating an ARR of over US$15mm, and is looking to quickly scale up its Taiwan's business and expand into other Southeast Asian markets.
OakMega (MarTech / CRM / SaaS)
OakMega provides omnichannel instant messaging CRM solutions for businesses, conquering the last mile of communication with customers. OakMega empowers large enterprises to integrate IM platforms with Salesforce and HubSpot, building an efficient way to acquire, analyze, and engage with customers.
Founded in 2019, OakMega has over 150 clients in Taiwan and Japan from various industries, including gaming, medical, real estate, retail & FMCG, KOLs, etc. OakMega is rapidly scaling in APAC and further expanding into the US and European Markets.
Kneron (AI / IC Design)
Kneron is a leading provider of edge AI solutions. Established in San Diego in 2015, it is dedicated to the design and development of integrated software and hardware edge AI solutions for AIoT, smart homes, smart surveillance, security, mobile devices, robotics, and industrial control.
Kneron's mission is to enable and empower edge AI to be everywhere. Kneron primarily solves three main problems for smart devices running AI — security, energy and cost. Kneron's solutions are reconfigurable, increasing the efficiency of processing image and audio AI models. Kneron was named to the 2020 CB Insights AI 100 list and recently raised an additional $40M to bring its total Series A funding round to $73M.
Tresl (E-Commerce Analytics)
Tresl makes data-driven marketing easy. Founded by two LinkedIn data scientists, its hero product, Segments Analytics is an ecommerce intelligence platform that gives brands access to the same analytics tools used by large enterprises at a fraction of the cost.
With their 1-click segmentations, actionable recommendations, and marketing integrations, Tresl provides step-by-step marketing optimizations across complex digital customer journeys to help brands take effective steps to monetize their data. Its customers include ILIA Beauty, BJJ Fanatics, Vejo, and more.
Aegis Custody (FinTech / Blockchain)
Aegis Custody is a blockchain financial services company specializing in providing secure and user-friendly solutions for trading, managing and protecting digital assets for financial institutions and enterprise clients.
The company's services cover the issuance, circulation and custody of digital assets, including over-the-counter (OTC), cryptocurrency funds, asset management and supply chain finance services. In 2020, Aegis successfully launched and sold its first supply-chain AR financing product (a digital beneficiary interest certification) in partnership with Taiwan's biggest factoring company. Aegis Custody has a global market reach, holding both Hong Kong trust license and US trust license.
TMYTEK (5G Infrastructure)
TMYTEK is a mmWave total solution provider dedicated to solving all the mmWave challenges in the 5G/B5G era. TMYTEK builds mmWave phased arrays for 5G and satellite markets with advanced Antenna-in-Package (AiP) technology, with ORAN Alliance listing TMYTEK as an alliance contributor. Its XBeam resolves the slow OTA testing issue in mass production lines to verify the billions of mmWave modules, smartphones, and base stations before shipping. TMYTEK also builds mmWave tools to make R&D more productive.
PenguinSmart (AI / Digital Healthcare)
PenguinSmart is enabling intelligent, individualized rehab therapy for all. Founded by Harvard & MIT alumni, their team combines the latest data sciences with expert insights to empower caregivers to become a key part of the rehab journey. Their solutions not only increase the efficacy of rehab therapy, but they also allow therapists to oversee 8x as many patients while providing long-term care. PenguinSmart was named one of the "Top 10 Disruptive Parenting Companies of 2017" by Disruptor Daily.
Aside from the startup pitches, DemoDay 4 organized two fireside chats with themes focused on adapting to uncertainties and overcoming challenges, a fitting topic given the circumstances of 2020. A majority of the panelists are international entrepreneurs that have navigated their companies through adversity and lead their companies towards an exit, many of which have recently returned to Taiwan. Due to the global crisis and Taiwan's successful response to the pandemic, Taiwan has seen an influx of expatriates returning home.
The first panel titled "From MVP to PMF: Adapting to Uncertainty" included Jameson Hsu, CEO of Kinetik; Dwayne Sye, Co-Founder and former Chief Information Officer of Cvent; and Chris Wang, Co-Founder of Playdom. The second panel, "Entrepreneurial Leaders: Rising to the Challenge," featured Laura Huang, Professor of Entrepreneurship at Harvard Business School; Winnie Lee, Co-Founder and COO of Appier; and Vivian Chiang, Co-Founder of Orbit Baby. A few key takeaways these speakers gave to Taiwanese founders in the audience was to build and iterate products quickly, to focus on getting to market, and to be unafraid to pivot when necessary.
Edgar Chiu credits Taiwan's outstanding success fighting the pandemic as the reason for Taiwan to be one of the few places in the world where an offline event with over 1000 attendees like DemoDay 4 could take place. In fact, because the technology supply chain in Taiwan has not been largely affected by the pandemic, Taiwan has become one of the most stable global import and export supply partners. In President Tsai Ing-wen's recent National Day address, she mentions how Taiwan has become one of the few countries in the world with a positive economic growth, seeing a massive reshoring of Taiwanese companies, tens of billions of US dollars being repatriated, and many foreign companies and multinational enterprises increasing their investments in Taiwan. This is a great opportunity for Taiwan's startup ecosystem as Taiwan positions itself to become a hub for international capital, talent, and digital technology.
SparkLabs Taipei DemoDay 4 is a testament to the thriving and robust startup ecosystem in Taiwan. As Taiwan's premier startup accelerator, SparkLabs Taipei helps both Taiwanese startups scale internationally and foreign startups enter the Taiwanese market. Furthermore, with their growing startup portfolio, they cooperate with large enterprises and multinational companies to source technology talent and identify potential startup strategic investments and acquisitions.
Established just two years ago, SparkLabs Taipei has accelerated four cohorts and invested in a total of 26 startups, 22 of which are Taiwanese startups. SparkLabs Taipei alumni have a 80% follow-on funding rate with follow-on investors including Taiwan's National Development Fund, Japan's NEC Capital Solutions, and Hive Ventures.
About SparkLabs Taipei:
SparkLabs Taipei is part of the SparkLabs Group, a network of startup accelerators and venture capital funds that has invested in over 280 companies across six continents. Established in 2018, SparkLabs Taipei offers a strategically designed accelerator program to help founders grow and scale their startups into world-class businesses.
Founded by entrepreneur Edgar Chiu, SparkLabs Taipei runs a 3-month accelerator program for the seed to early-stage startups, investing in every startup that enters its program. Each team enjoys free office space, weekly training sessions, and are matched with three to six global mentors. The program is offered twice a year with the mission is to help Taiwanese startups expand globally, and more specifically to secure the next round of funding.
SparkLabs Taipei's investment areas include the internet of things, artificial intelligence, fintech, digital healthcare, and other verticals. They focus on data-driven companies with innovative and disruptive business models.