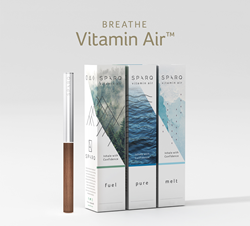 We built Sparq because we were frustrated consumers who wanted a well-designed product that was nicotine-free and health-focused.
NEW YORK (PRWEB) October 18, 2018
Consumers who've been looking for a recyclable and nicotine-free inhalation device now have a superior alternative: Vitamin Air. Launching today on Indiegogo and developed by New York-based wellness company Sparq, Vitamin Air is an environmentally-friendly inhalation device for adults that replaces nicotine and harmful chemicals with lab-tested vitamins, amino acids and botanicals.
"We got tired of seeing other companies irresponsibly releasing products that were harmful to users and the environment," said Sparq Co-founder Avi Kwitel. "We built Sparq because we were frustrated consumers who wanted a well-designed product that was nicotine-free and health-focused."
Together, along with inhalation toxicology expert and Sparq advisory board member Dr. Ed Carmines, co-founders Mark Greenspan and Avi Kwitel set out to reimagine the future of inhalation and spent two years designing and testing Sparq's all-natural Vitamin Air blends: Pure, Fuel and Melt. Focused on vitamin integrity, the Sparq team worked to ensure its vitamin formulas remained intact when heated and did not produce harmful by-products during extensive lab-testing. These tests were conducted by an independent testing laboratory accredited to ISO 17025.
"This is the first wellness company I've ever seen invest in this level of testing and analysis around vitamin inhalation," said Dr. Carmines. "I believe Sparq's commitment to developing a product that's sustainably designed, consumer friendly and non-harmful is truly revolutionary."
Offering three different blends of Vitamin Air—Fuel, Melt and Pure—Sparq users can breathe in their blend of choice through the recyclable Vitamin Air device, offering over 400 inhales. Sparq's three unique formulas are infused with an organic base of USP-grade vegetable glycerin and offer natural power boosters like L-Theanine and Beta Alanine (Fuel), metabolism-enhancing herbs and vitamins like Acai Berry and Green Tea (Melt), or anti-aging nutraceuticals such as Blueberry Extract and Grapeseed (Pure). All Sparq formulas are available in natural vanilla or strawberry flavor and contain the essential natural nutrients L-Choline and vitamin D3, which play multiple roles in maintaining a healthy body.
From their environmentally-friendly packaging and free recycling program, to their commitment to promoting healthier habits, Sparq's founders hope consumers find Vitamin Air to be the highest quality inhalation product available on the market today.
"We hope our customers use Vitamin Air to create healthier habits, be it decreasing stress or getting off nicotine," Kwitel said. "Our goal has always been to remove the stigma surrounding inhalation by offering an ethically-made device that is nicotine-free and wellness-inspired."
Sparq's Vitamin Air is currently available at a discounted price on Indiegogo. For more information about the campaign, or to place an order, visit the Sparq Vitamin Air Campaign Page on Indiegogo.
About Sparq:
Founded in 2016, Sparq is a global wellness company revolutionizing the inhalation industry with its nicotine-free and environmentally-friendly inhalation device: Vitamin Air™. Recognizing the lack of safe, socially conscious and recyclable options for adult inhalation device users, Sparq worked with leading scientists and expert product developers to design its first patented wellness device, Vitamin Air, which contains nutrient-dense vitamins instead of harmful chemicals and nicotine. Sparq's Vitamin Air is available in three unique blends—Pure, Melt and Fuel—and all contain essential nutrients, natural herbs and botanicals often used to maintain a healthy body and lifestyle. For more information about Sparq and its nature-inspired Vitamin Air blends, visit http://www.sparqlife.com/.