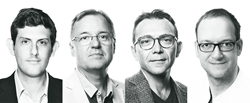 "Spartan's CYP2C19 test is a great tool because it is easy to perform and provides results in one hour. This enables the healthcare team to make rapid, precise treatment decisions leading to better patient outcomes," said Jurrien M ten Berg, MD, PhD, FESC, FACC principal investigator of POPular Gene
OTTAWA, Ontario (PRWEB) January 13, 2020
Spartan Bioscience, a world leader in precision medicine diagnostic solutions, announced today that it has established a new Scientific Advisory Board (SAB) in Europe. The SAB is comprised of a distinguished group of international clinical and academic Interventional Cardiology experts who will advise and support Spartan on its current and future clinical programs and product roadmap.
This SAB will be supplemented with a North American team to be announced at the American College of Cardiology (ACC) conference in March 2020.
The Spartan European SAB members are as follows:

Dirk Sibbing, M.D., Interventional Cardiologist and Professor of Cardiology, Ludwig-Maximilians University, Munich, Germany. Chair of the ESC Thrombosis Working Group.
Gilles Montalescot, M.D., Ph.D., Professor of Cardiology at the University of Paris VI, and the Director of the Cardiac Care Unit, Pitié-Salpêtrière Hospital, Paris, France. Director of the INSERM unit on Thrombosis and Chairman of the ACTION (Allies in Cardiovascular Trials, Initiatives and Organized Networks) study group.
Marco Valgimigli, M.D., Ph.D., Associate Professor of Cardiology and senior Interventional Cardiologist, Inselspital Universitätsspital, Bern, Switzerland. Acting chair of the European update guideline on DAPT.
Davide Capodanno, M.D., Ph.D., Associate Professor of Cardiology, University of Catania and Interventional Cardiologist, Azienda "Policlinico-Vittorio Emanuele", Catania, Italy. Associate Director of TCT and Editor-in-Chief of Eurointervention.
Spartan's precision medicine test identifies whether or not a patient carries a CYP2C19 mutation. Over 30% of the world's population, and 50% of Asians, carry CYP2C19 mutations. CYP2C19 is a liver enzyme that metabolizes 15% of all prescribed drugs, including antiplatelet drugs. Spartan's rapid, portable test allows real-time, near patient determination of the patient's genotype, aiding in determining the appropriate antiplatelet treatment leading to better patient results and lower cost healthcare.
The Spartan technology has been used in several landmark clinical studies including, POPular Genetics, a 2,500 patient, 8-year study in Europe published in the New England Journal of Medicine (NEJM), and announced at the European Society of Cardiology (ESC).(8) In addition, Spartan was used in TAILOR-PCI, a 5,300 patient, 7-year study funded by Mayo Foundation and the National Institutes of Health (NIH). TAILOR-PCI is the largest trial of genetics in cardiology and results are scheduled to be announced at the American Cardiology Association (ACC) conference in March 2020.
About Spartan Bioscience
Spartan Bioscience is the leader in on-demand DNA testing. (10) Spartan is bringing complete sample-to-result DNA testing systems to medicine. Spartan's technology fully integrates DNA collection, extraction, and analysis, with an intuitive interface that is easy to operate. In the same way that mainframe computers gave way to personal computers, high-throughput DNA testing systems in central labs are giving way to decentralized devices. For the first time, healthcare providers and their patients can get DNA results on demand. For more information, please visit our website at: http://www.spartanbio.com.
The Spartan logo is a registered trademark of Spartan Bioscience Inc.
Plavix is a registered trademark of Bristol-Myers Squibb/Sanofi Pharmaceuticals.
Media Contact
Molly Kett, Director of Communications & Marketing
molly.kett@spartanbio.com
1. Damani SB, Topol EJ. (2010). J Am Coll Cardiol. 56:109–11.
2. Chen M et al. (2011). Atherosclerosis. 220(1):168–71.
3. Oh IY et al. (2012). Heart. 98(2):139–44.
4. Jose R et al. (2004). Fundamental & Clinical Pharmacology. 19(1): 101–105.
5. Dayoub EJ. (2018). JAMA Intern Med. 178(7): 943–950.
6. Mega JL et al. (2009). N Engl J Med. 360: 354–62.
7. Wiviott SD et al. (2007). N Engl J Med. 357: 2001–2015.
8. Claassens DMF et al. (2019). N Engl J Med. 381(17): 1621–1631.
9. dbSNP Short Genetic Variations. Reference SNP (refSNP) Cluster Report: rs12248560
10. Roberts JD et al. (2012). Lancet. 379:1705–11.