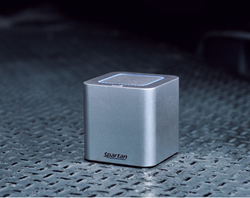 "I could not be more excited to be joining Spartan during such a formative time for the company" - Jeremy Bridge-Cook
OTTAWA, Ontario (PRWEB) March 03, 2021
Spartan Bioscience is pleased to announce the appointment of Jeremy Bridge-Cook as Chief Scientific Officer and Vice President of Research and Development. This hire further strengthens Spartan's executive leadership team as it focuses on the growing demand for its breakthrough Health Canada Authorized diagnostic testing solution. Bridge-Cook will be in charge of leading the research and development of all product lines at Spartan, and leading the Assay and Engineering teams.
Jeremy Bridge-Cook joins Spartan as a seasoned leader, with former experience as the President and CEO of RNA Diagnostics Inc., and Senior Vice President of Research and Development at Luminex Corporation. When it comes to assay development and innovation —areas highly critical to Spartan's growth—Bridge-Cook's background in the diagnostic space will be instrumental.
"I could not be more excited to be joining Spartan during such a formative time for the company," said Bridge-Cook. "I look forward to leading this team into a new phase of expansion and driving R&D from product development to commercialization. It's hard to match the performance and mobility of Spartan's solution, and I look forward to leading continuing innovation, developing a menu of products utilizing our technology, and scaling its impact."
Jeremy's appointment follows the addition of a variety of executive team members over the course of the last year and new members to Spartan's Board of Directors.
"As an organization, we are dedicated to bringing on world-class talent to research and develop impactful applications for our technology. Jeremy is an unmatched leader in the diagnostic testing space who will be a key asset to our leadership team during such a critical and exciting time," said Roger Eacock, Chief Executive Officer of Spartan Bioscience. "We're looking at a number of research and development opportunities at present, from testing for infectious diseases, to exploring other industries like veterinary medicine. It's clear that the opportunities for us to have an impact are vast, and we couldn't be more excited about what's to come for Spartan."
Since the inception of our company, the team has been continuously innovating-on and perfecting our technology to improve people's lives in a variety of verticals. This hire solidifies Spartan's commitment to innovation and science.
About Spartan Bioscience
Founded in 2005, Spartan Bioscience is a Canadian biotechnology company and leader in portable molecular diagnostic testing. The Spartan Cube® brings complete sample-to-result DNA testing to fields such as precision medicine, environmental water testing, and infectious diseases. Spartan's technology has been published in prestigious medical journals including The Lancet and The New England Journal of Medicine and is used by expert organizations such as the Centers for Disease Control & Prevention (CDC) and Mayo Clinic.