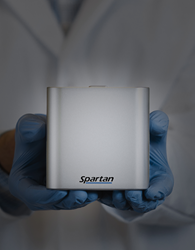 "We have world-leading portable DNA testing technology but funding will be key to developing a rapid COVID-19 test."- Paul Lem, M.D. and CEO of Spartan Bioscience
OTTAWA, Ontario (PRWEB) March 19, 2020
Spartan Bioscience, a Canadian biotechnology company and world leader in on-demand DNA testing(1), has developed a rapid, sample-to-result DNA testing platform that is designed for in-field diagnostic testing. Spartan's technology has regulatory approvals worldwide, including FDA 510(k), European CE IVD Mark, and Health Canada. Spartan's customers include leading organizations such as Mayo Clinic, the Centers for Disease Control and Prevention (CDC), New York State Department of Health, and Fortune 500 companies.
Spartan's Cube platform would be ideal for fast and portable detection of COVID-19 because it can be deployed in non-laboratory settings such as airports, cruise ships, military bases, and other critical points of entry. The CDC has developed a COVID-19 DNA test and Spartan is currently exploring how to perform the test on its platform.
Spartan Bioscience is led by CEO, Paul Lem, an infectious disease doctor by training. Lem says that Spartan has been exploring how the company's technology could be applied to COVID-19 and thinks a commercial test could be available within 8 to 12 weeks.
"As a private company, it comes down to funding," says Lem. "We have world-leading portable DNA testing technology but funding will be key to developing a rapid COVID-19 test."
About Spartan Bioscience
Spartan Bioscience is a leader in rapid DNA testing. Spartan is bringing complete sample-to-result DNA testing systems to fields such as precision medicine, environmental water testing, and infectious diseases. Spartan's technology fully integrates DNA collection, extraction, and analysis, with an intuitive interface that is easy to operate. In the same way that mainframe computers gave way to personal computers, high-throughput DNA testing systems in central labs are giving way to decentralized devices. For the first time, healthcare providers and their patients can get DNA results on demand. For more information, please visit our website at: http://www.spartanbio.com.
For media inquiries, please contact:
Molly Kett, Director of Communications
media@spartanbio.com
1. Roberts JD et al. (2012). Lancet. 379:1705–11.