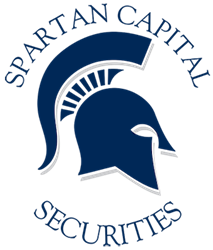 Founder and CEO, John Lowry commented: "We are very pleased that Barry Sine has joined the Spartan team
NEW YORK (PRWEB) June 12, 2019
Barry Sine has joined Spartan Capital Securities LLC (SCS) as Director of Research. Mr. Sine has more than 30 years of comprehensive professional experience in the financial services industry. He has served as Director of Research at leading firms in the financial service industry such as Kaufman Bros., Drexel Hamilton and SBC Warburg. He has also served as an analyst at firms such as Prudential Securities and Oppenheimer & Co. Prior to his research career, he held positions with J.P. Morgan and Co. and Donaldson, Lufkin and Jenrette.
As an analyst Barry has earned a top three ranking four times in the last decade for stock picking in his sector. He was ranked #1 in 2013 and #2 in 2017 in the Thomson Reuters analyst rankings for U.S. TMT stock picking. According to Tipranks.com his recommendations have garnered a 17% return with 65% success rate over the last year. He is also a frequent on-air contributor on both CNBC and Bloomberg TV.
Mr. Sine received his bachelor's degree in finance and economics from Fairleigh Dickinson University and his MBA degree from New York University – Stern School of Business in finance and international business.
Spartan Capital Securities' Founder and CEO, John Lowry commented: "We are very pleased that Barry Sine has joined the Spartan team. Barry's extensive research knowledge position him as an ideal addition to our growing firm. Barry will be bringing 30 plus years of market research experience and stock analytics to the Spartan team. It is my belief that our team and global client base will benefit greatly from Barry's vast experience and knowledge."
About Spartan Capital Securities LLC:
Spartan Capital Securities, LLC (SCS) is a full-service, integrated financial services firm that provides sound investment guidance for high net worth individuals and institutions. Their in-depth market knowledge, calculated risk management strategy and investment acumen have earned them a strong reputation as trusted financial advisors. SCS also offers advisory and insurance services through its affiliates, Spartan Capital Private Wealth Management LLC and Spartan Capital Insurance Services LLC.
About Spartan Capital Private Wealth Management LLC:
Spartan Capital Private Wealth Management LLC directly serves high net worth and ultra-high net worth clients globally offering a full suite of banking, investment and other wealth management solutions. The business also provides asset management products and services through its partnership with RBC Wealth Management's Portfolio Advisory Group.